Chapter One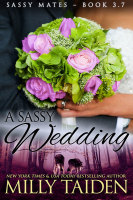 Jordan Alvarez gazed out the window. Being in Vegas had been unreal. First she and the others had to help Nicole when she struggled with her feelings for Jake. To make matters worse, the Vegas Pack Alpha decided he wanted Nic for himself. After the issues with Nicole and Jake, they'd finally been able to set up a day for a bachelorette party.
It was still early in the day, but Jordan wasn't feeling overly festive. She decided not to ruin the good mood by telling the others. The entire act of planning a wedding was hell. She didn't know why women would want to do it or put others through the torture.
"Are you ready for your night of fun?" Nic asked Jordan. She'd been sitting by a window, trying to decide how to get rid of the whole wedding planning drama. Not only was poor Emma starting to get overwhelmed with a crazy number of lists, but Jordan was losing sleep. Nightmares cropped up on her about a dress that wouldn't fit, guests who started fights or worse, someone getting killed by the Rahound pack in the middle of her 'I Dos'.
She glanced up, panic clawing at her gut. "I don't know if I can do this." She rushed into the closest bathroom and locked herself in.
The anxiety she'd started to feel over the number of questions Emma threw at her slowly subsided. If the wedding didn't happen soon, she might just change her mind. Possibilities over how to handle toning down the wedding ran through her mind.
She'd warned Aric that things would get out of hand, but he'd smiled, kissed her and told her it'd be fine. Yeah. As long as he didn't have to deal with it then it was perfectly fine. But right now she was the one with stuck with Emma, an Emma whose determination rivaled that of a pitbull going after a mailman.
Of course, he was off meeting with his friends from the Golden Falls Pack, leaving Jordan to deal with the upcoming wedding. Their last few days in Vegas were turning into a nightmare. All Emma wanted to do was talk about what needed to be done back home. But with all the fighting at Blue Creek, the last thing Jordan wanted was a wedding there.
Well, too bad for Emma. Jordan had had enough. She shoved a hand into her jeans and yanked out her cell phone. Sitting on the edge of the lavish Jacuzzi, she dialed her fiancé.
"Hi, gorgeous," Aric answered. Goosebumps broke over her skin. Even though she slept with him every night, her body still reacted to his low rough voice.
"I can't do it," she rushed out, one hand gripping the porcelain under her ass.
"What's wrong?" Gone was the sexy timber, replaced with worry.
"Aric," she gulped, "I can't go through with this wedding."
"What?"
She winced at how loud his voice turned. "I'm not saying I won't marry you. Calm down. You're my mate. Wedding or not, you're mine. It's just," she struggled to word it in a way he wouldn't feel she was rejecting him, "Emma's planning and all the running around is really getting to me. I'm hyperventilating every time I hear the words menu, cake or dress."
She heard his deep inhale and exhale.
"Calm down," he finally said. It sounded like he was the one that needed to calm down at that moment.
"That's the problem. I can't. I wish we could just forget about that huge wedding that started out as an intimate affair and return to what I wanted."
"And what's that, love?" He said, sounding genuinely interested.
"You. Me. Our family and friends. No drama. Just us."
No matter how much she'd tried to adjust to letting others plan everything for her, it was nearly impossible to deal with this. Her wedding should have stayed small and intimate. She no longer looked forward to what was supposed to be the happiest day of her life.
"I have to meet with Jaxon some more. But stop all wedding talks. Just go do something, anything that is fun and distracting."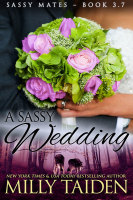 She grinned. "If you were here you could distract me."
She chuckled at his groan.
"Don't do that, sweetheart."
"It's true. We have this big Jacuzzi. We could fill it up," she said slowly, listening to his breathing increase in pace over the phone, "then I can wash you all over. And then…" She paused and smiled.
"What?" he growled, his voice so deep she knew his wolf had woken.