Chapter One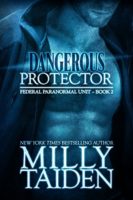 Sirens blared. One after another the police cruisers and fire department vehicles sped by in a rush. A honk sounded from behind James Brock's SUV. He glanced over his shoulder.
"This moron is trying to cause an accident," Tony Ramirez, one of the Federal Paranormal Unit team members, yelled at the rearview mirror.
Brock glanced over his shoulder. A black Sedan tailed close behind them. Too close.
Ramirez gripped the wheel so hard his tanned knuckles turned white. "I'm already doing eighty."
"Tony, let them by."
There was something big going on. He curled his hands into fists in his lap. He knew what it was. They all knew.
"Where do you think they're all going, Brock?" The concern in Jane Donovan's voice momentarily choked him. Her soft lilt reminded him of his mother's voice. At first appearance, you'd think Donovan was a weak woman, but make her angry, and you'd have hell to pay.
Tension turned palpable with its own heartbeat in the fast-moving SUV.
"I can take a wild guess."
They made a sharp corner on a bend into a dirt road. The SUV skidded on its wheels for a second. Everyone held on while they bounced in their seats.
"Jesus H. Christ, Ramirez! Can you not to get us killed before we get there," Donovan growled.
"Sorry, cariño, but there is no time to be worried about your delightful ass bouncing on the seat when we have to find a missing kid."
"I told you to stop calling me darling!"
"Ramirez…" Brock sighed.
Their constant bickering wasn't unusual, so he ignored it and focused on the scene ahead. Multiple police cars parked outside the house he'd called the local PD on. The house he knew had the latest missing person they had been searching for.
"Oh, God!" Fear laced Donovan's whisper.
They were thinking the same thing. That whoever kidnapped little Kyler Jones had killed her. That his request for the county to get to the house in question had been too late. His gaze roamed the area through the darkness of the early evening. Multitudes of tall willows surrounded the large house set in the middle of nowhere. Perfect. If he'd been looking for a place to do some of the things the person in that house was known for, this was the right spot. There wasn't a body around for miles. Nobody to get help. Nobody to hear the screams.
Ramirez hadn't fully stopped when Brock jumped out of the SUV, his feet hitting the ground with a thump. Immediate perspiration gathered on his upper lip. The humidity from August had brought intense heat. Though it was closing in on nighttime, the air sizzled with the high temperature from earlier.
He ran for the SWAT van. Instinct told him they'd know more than the local sheriff's department. Radios beeped. Concern expanded in his chest. Everyone seemed to want an update on the situation. He recognized one of the FBI department heads—Martin Galvez—standing off to the side of the SWAT van.
The older man stopped mid-sentence to give him one of his degrading piercing glares. "Brock. What are you doing here?" Command oozed from his Latin accent.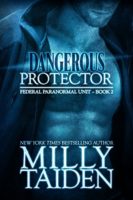 Brock glanced from Galvez to the other two lower ranked agents. Took both men all of a second to move away. That allowed him and Galvez to talk.
"This is our case. We found Kyler Jones through intense searching of phone records and—"
"Save it," Galvez cut him off. He turned away from Brock to study the area.
"How are you going to retrieve the child? Do we know if she's alive?" Brock tried to tamp down the surge of power dancing through his veins. It wasn't usually difficult to do. He'd mastered his darkness. But Galvez had a tendency of pushing his anger. The older man's attitude lit a fire in his stomach.
Galvez smirked. "We have a man who went in through the back."
Gathered men and women avidly stared at the house. Watching. Waiting. Brock knew there were no guarantees of getting the child out alive. They all knew that. It's what made his job that much harder.
Power swirled at his fingertips. He need only know what to do, and he could end the entire thing in a matter of seconds. "Do you need me to—"
"What I need, is for you to keep yourselves out of the way," Galvez ordered.
Anger licked at his skin, growing at the speed of a derailed train. He shot a glance at Galvez. For a split second, Galvez paled.
"I'd watch how you talk to people, Galvez," Brock said, no longer caring that his voice sounded hard. Steely. Deadly.
An explosion rocked the ground. He jerked his gaze to the house. Flames consumed the structure. Screams and shouts filled the night. Men moved in all directions toward the house, but gunfire blasted through the shouts. Brock's muscles tightened.
"Can we do anything?" Donovan yelled over the sirens and shouts. She ran a hand over her mussed up ponytail. Her fingers shook. He saw the desperate need to help in her eyes. It went against her nature not to.
Brock shook his head. "We wait."
The thought of doing nothing didn't appeal to him either. In fact, it was hell to hold back and not run into the house and get the kid himself. His power shoved outward. Pushing to get out. To take control.
"Finally!" Galvez sighed.
Brock's vision followed Galvez's line of sight until he saw a woman running out through the flames with a bundle covered in a dripping blanket.
Breaths thundered in his ears. Everything narrowed until the only thing he saw was her. He couldn't believe his eyes. Was his mind playing a trick on him? After all these years? But no, it wasn't a trick. She was soaking wet as she ran from the burning house toward them. Paramedics surrounded her and took the covered bundle from her arms. She was gasping for air, coughing through the smoke she'd inhaled before she finally glanced up and met his gaze.
He didn't know how long he'd been standing there, watching everything like a spectator versus an active participant. The beast inside him roared. After all the years they'd been apart, after she'd left him for no apparent reason, she was back. He watched her march toward him. Her dark gaze slid from him to Galvez.
In the background, firemen fought the burning house. Sirens continued to blare. Loud. Driving the point that chaos had ensued around them. But he couldn't find it in him to care. His sole focus was on the woman he'd loved. Hard. The woman who'd left him.
Cynthia Vega.