Chapter One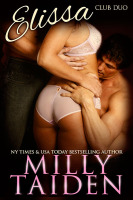 Elissa watched her friends head in different directions down the multiple hallways. Great. Now what was she supposed to do? Go look for Mr. Math, you dumbass! He was there somewhere. They'd followed all the hot teachers they had a crush on repeatedly to Club Duo. What they couldn't get was for the sexy men to do something about the intense chemistry between them. Hell, she was taking a math she didn't need just to spend an extra hour with him.
She knew Alain Richards, a.k.a Mr. Math, wanted her. His gaze always brightened when it touched on her. Those hazel eyes seemed look deep into her. Whenever she walked into class, a dark sexy smile split his lips. It was like he knew exactly what she was thinking and feeling. Which was not cool since most of the time she was thinking of getting him naked.
Continuing down one hall, she came upon a visual display. Massive paintings of couples in different sexual acts lined the stone hall. Image after image of two males and a female posed in the detailed paintings.
Sounds of soft music from one door caught her attention. She peeked inside to a private dance room. A quick glance to the following door revealed a costume room. How fun. Excitement buzzed in her veins as she ran toward the different costume displays.
"Wow."
Row upon row of everything from French maid to Jane from Tarzan hung in plastic covers. She was eyeing the naughty schoolgirl costume when she overheard laughter. She knew that low sexy rumble. There was a see-through curtain at the other side of the costume room. It connected with a bedroom. Alain was sitting on a recliner watching a woman strip for a second man.
Elissa did a double take. There were two of the delicious Alain. He had a twin! An identical twin. Holy hot sex on stick!
Her heartbeat tripped. Well, damn. Two men. Both tall with sexy hazel eyes. Both hot as hell were in the same room with her. There was no way in hell she was passing up that opportunity.
She ran back to the naughty schoolgirl costume with a grin. Once she changed into the itty bitty pink skirt which showed off her big thighs and the tiny top displaying her abundant breasts, she glanced at her body at a nearby mirror. Her curves and brown skin were things she was proud of. She was referred to as a Latina bombshell. Wide hips, big ass and large tits were what people first noticed on her. But she didn't mind. She enjoyed the attention her body got. Especially when it was the attention of Alain. Lately, everything she wore was with him in mind. And she knew that leaving town for college was going to be difficult, but if she could find a way to get her hands on him she was going for it without a doubt.
Taking a deep breath came easy. Trying to calm the excitement bubbles fizzing inside her was a bit tougher to do. She reached for her bag and reapplied some gloss and the perfume she was known for. It was a special blend she'd gotten made just for her when her parents had taken her to Paris the previous year.
She yanked the curtains open. Alain's gaze met hers instantly. The woman, who was rubbing herself between both men, stopped. Alain politely peeled her off him without breaking their visual connection.
He glanced at the girl. "Go."
His twin watched the other woman leave without a word.
Alain stood there. Waiting.