Chapter One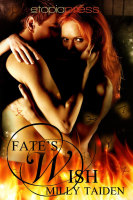 "Look at me, Shar." He gripped her face with his large hands, tilting it back.
She lifted her lids to bring his black eyes into focus. Their eyes met, held; heat flooded her system.
"Zahir—" Her voice came out a breathy moan. The full impact of his body touching her sent her arousal into overdrive.
"You're mine. You'll always be mine."
He crushed her lips with his. She urged him on with moans and whimpers. With her legs curled around his waist, she rubbed her clit on his steely cock. Another moan worked through her. Her nails dug into his muscled shoulders, and she tried to pull him closer to her.
"Fuck me, Zahir." Her urgent plea filled the quiet of the bedroom.
Focused solely on her, it was as if his eyes gazed deep into her soul. He pulled his hips back and the head of his cock stretched her pussy entrance. His dick stroked every nerve ending in her body while he slowly drove into her.
His thick shaft stretched her sleek walls until she was panting in half pain, half pleasure. His eyes never wavered from hers until he was finally seated deep inside her. Every time they made love, it was like that. Her body needed to relearn to adjust to his size all over again.
"Relax, sweetheart."
She wiggled her hips and moaned at the amazing feel of him inside her.
"Oh, goddess. For sanity's sake, fuck me already." Ecstasy gripped her body in its clutches while she tried to breathe. "Zahir, move!"
He powered in and out of her body in rapid, harsh thrusts. Energy swirled around them. Lights of gold and white stars burst when he lost more of his control. She moaned at the heat spreading through her.
Her moans and pants increased. He groaned and thrust wildly into her body. All she knew was him. She gazed into the full black of his eyes. White energy merged with his golden dark power, surrounding them and blending both into one.
Her climax hit her in a rush. Pleasure rolled through her in waves, and she was left breathless. His body tensed and released into her in heated jerks.
"I love you."
Only silence greeted her words.
Sharmila jerked awake bathed in sweat. Her nipples and pussy throbbed, aching for release. She breathed deeply. The dream had been more of a memory really, one she'd love to forget but that her body wouldn't let her. Each time one thing came through crystal clear: he'd never told her he loved her.