Chapter One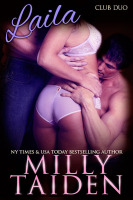 "So what exactly is your birthday wish?" Tina's enthusiasm rivaled Laila's. If only her wish would come true.
"Come on, Laila. It's your eighteenth birthday." Elissa grinned. "And now we're all over eighteen and able to do all the shit we've been hoping for."
"We can't drink, Laura," Wendy argued.
"Oh, fuck yes we can," Tina growled. "This is the beginning of our lives." She sipped her drink. The booze had been a gift from her stepmother for the celebration. "Or some shit like that."
So true. They were all going off to different colleges. Doing different things. Life was happening. Nobody ever liked change. Laila knew she'd have to adjust. But when you leave your best friends behind, it's hard.
The scent of fresh strawberries and cream hit her and made her mouth water. Her favorite cake. Laura cut slices from the cake set out on her parents' expensive dining room table.
"Come on. Tell us what you want for your special night." Elissa always tried to give her friends something memorable on days like birthdays.
"I…" She couldn't say the words out loud. Even though these were her friends, she couldn't. Telling her friends her personal fantasy was not easy. She didn't know if they'd be cool or freak the fuck out.
"I know what she wants." Laura's eyes sparkled with mischief.
"Oh?" Laila's stomach churned. What did she know?
"You want to go to Club Duo."
Air shot out of Laila's lungs. "What?"
Everyone knew the place. It was one of those places parents didn't want their daughters going. Not that the girls had cared. They'd followed Laila's crush to that place. Mr. Jack Benton. Her old High School English teacher. AKA, Mr. Stud. Hot as all hell and drool worthy to the billionth degree. He was one of the younger teachers in the school. There were a few others like Mr. Math, Mr. Personal Fitness, Mr. Chemistry, and, of course, the Principal. Who ever heard of a hot principal?
"You know you want to." Elissa giggled, red-cheeked from all the laughing and probably the beer.
"I do want to." Laila agreed. There would be no admitting to personal kink fantasies though.
"Let's go then." Tina stood.
"Where?" Laila needed to stop daydreaming and pay attention to the conversation.
The three of them glared at Laila.
Elissa's brows arched. "Club Duo. Have you been listening?"
Laila struck her tongue out. "Um, has it escaped you all that we are not twenty-one yet? They won't let us in."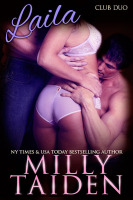 Elissa and Laura glanced at Tina. What in the hell had Laila missed? "I got a way for us to get in."
Now the three shifted toward Laila.
"Really?" Laila was unsure, but the possibility was too tempting.
"Yes." Elissa stood, sliding her hands down her dark-green bubble skirt. "It's settled. Let's go."
Laila glanced down at her black mini dress and spiky heels. "I'm not dressed for that place. Don't we need to be like half-naked or something?"
"You look great," the others replied.
"Fine. Ok."
She could do it. She really could. She was a graduate now. She almost choked. Ok, she was a high school grad. Plus, she needed to see what drew Mr. Benton to that place.
God.
He was so delicious with his big, tanned body in those ass-hugging jeans. Her brain fried with every glance she stole. He'd caught her a few times. Ok, more than a few. But she didn't care. She would give up her scholarship for a single night with Mr. Stud. All the girls in the school drooled over him, and his big, blue eyes. It was painful to watch, but at least he didn't try to hook up with any of them.
* * *
Club Duo was low lit, with a long, red carpet leading to the front doors. There was no sign, just a guy at the door. It was crazy, but no one ever knew who went there. The only reason they'd caught Jack going in was because they'd followed him after class. That had given Laila all kinds of perverted ideas. Ideas that had her pulling out her purple rabbit vibrator, the one with white pearls and dual rotation. She'd run to her bathroom and fucked herself while mumbling his name. Thank God her father traveled so much, or he'd probably have heard her down the hall.
Elissa parked down the street. Tension ran high in the car. Sweat covered Laila's brown skin. She knew they could get arrested, but she didn't care. Nobody went into Club Duo unless they were a member.
"So…what now?" Laura glanced toward the entrance.
"No. Not that one." Tina shushed everyone.
They got out of the car and ran into the back alley. Darkness surrounded them. Excitement buzzed over her skin, seeping into her pores and igniting tiny shudders down her back. When they reached a side door, one of the guys from their high school stood there. He unlocked the door and held out a hand.
Tina handed him a wad of money. "Thanks, Nick."
"No problem, babe." He licked his lips and glanced over the group before meeting Tina's gaze. "You sure you don't want to play with me?"
"We've done this before, Nick. You can't handle me, remember?" She winked.
Nick's smile dropped instantly. "Get inside. Don't get caught, or I don't know you. I got this job thanks to my dad, and I'm keeping it."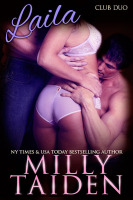 The other girls rushed inside. Laila's heart thumped wildly, bouncing around her chest cavity.
This was it.
They walked past a bunch of waiters dressed in distinctive red shirts and black pants, before entering a hallway.
"Alright." Elissa grabbed Laila by the shoulders. "We love you. Really, we do. And we brought you here to have an orgasmic birthday. But we can't stay together or we'll get caught."
Laila turned to her other friends. All were nodding. Shit. She was going to have to go on alone.
"Ok."
"Let's try to meet back by the car at some point in…say, three hours. Unless you get a ride, in which case call me," Tina added. "I won't leave without everyone."
She watched them break off and head in different directions. Holy hell. It was for real. She was in Club Duo. Her interest in finding out what in the world was going on in that place skyrocketed.
After wandering down hall after hall and only coming across doors with strange names, she decided to peek inside one of them.
Edibles. Nice. She turned the knob quietly, hoping not to make too much noise. Her fingers froze on the door while she took in the sights. Well, damn.
A handful of women sat on a large buffet table, legs wide open, while men licked at their pussies like starving dogs. A second man held each woman from behind. Each man gripped and squeezed the woman's tits. It was super hot.
Her pussy grew instantly slick, and her clit throbbed. She wanted to be eaten like those women. Her gaze wandered over the room. There was a man off in a corner. Just standing there. Watching. She knew that face. Jack was taking in the show.
He met her gaze. Goosebumps broke out over her skin from the way he watched her.
Dark.
Intense.
Sexy as hell.
She gulped. Sometimes a person was faced with their deepest desires and didn't know what to do.
He marched toward her. Oh lord. The dangerous side of her—the one that always got her into some kind of trouble—said to stop being a sissy and take the man. This was her chance.
"Do you know what you're doing here?" His low, rough rumble sent electric sparks straight to her cunt.