Chapter One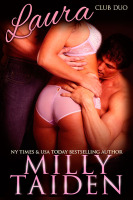 Laura skipped down the hall with excitement buzzing in her veins. She knew who she was looking for. Big, strong Kevin Knight—aka Mr. Personal Fitness—or in her universe, he was Mr. Muscles. He was also the biggest man she'd ever seen. Though at only five-foot-two, a whole bunch of people were a lot taller than her.
Laughter drifted from one of the rooms she passed. This was a place to have fun. She liked that. Her eighteenth birthday had been ignored by her family, and only her friends had been kind enough to help her celebrate.
She'd grown with some strange parents but also with an amazing grandmother who'd taught her to be whoever she wanted. It was her parents' constant talk of right and wrong that managed to drive her crazy. No one in her family, other than her grandmother, would be caught dead at Club Duo—the hottest sex club in Rock Creek aka small town nowhere. Oh well, more fun for her.
She wasn't kidding herself. She'd come to the club on a mission. She knew Kevin hung out there. And damn it all to hell, she wanted him. He'd flirted with her every time she put on her booty shorts and wiggled her ass when they'd played dodge ball at gym class. It drove her nuts that he'd never done anything about the sexual tension between them.
She ran her fingers over the velvety wallpaper lining the hall. Large double doors stood at the end. Curiosity more than grew inside her with each step. Her heart raced. With a quick inhale she turned the knobs with sweaty hands.
A massive, two-story library filled the large room.
"Wow." Laura's heels clinked on the shiny wooden floor, bringing her closer and closer to the masses of books. A large painting—a threesome with a woman giving one man oral while getting fucked from behind by another—sat over a stone fireplace. She giggled. "Alrighty then. She's having some fun."
"Everyone is having fun here."
She whipped around to find two men at the entrance. One shut the door while the other, whom she recognized as the man of her dreams, spoke.
He strode purposely toward her. "I don't recall minors being allowed in this place."
"I'm eighteen. So, no longer a minor." She lifted her chin.
Kevin's dark brown eyes caressed her body boldly, roaming down her strapless dress. Her breasts were almost hanging out of her dress. The moment his gaze latched on to the sight, his eyes darkened. Lust.
A slow smile lifted the side of his full lips. "You have the body of a woman."
"I am a woman."
"We'll see." His gaze traveled further, down her small waist to the flare of her large hips. "Your body's perfect for sharing."
She blinked. "Sharing?" She gulped. She'd never been shared before.
He moved closer. The other guy stood by the door, watching. Kevin' lightly tanned skin glowed under the gold of the chandelier. Another step and he was crowding. His much larger body and the warmth he emanated drew her in.
Her gaze trailed up, over the tight, white T-shirt hugging those large muscles. Screw waiting. She lifted a hand to his abs. Rock hard muscle shifted under her fingertips.
"God, you're hard." She glanced up, meeting his gaze.
He grabbed her other hand, brought it up to his lips, placing a slow kiss at her palm. Then he moved it down to cup his erection. "Yes, I am. Real hard."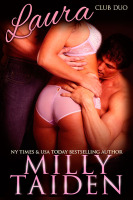 She sucked air in. "What should we do about that?"
Arousal sparkled in his eyes. "Depends if you are willing to play with both of us."
She glanced over to the man slowly walking toward them. A slimmer, yet still muscular, handsome guy headed for her. His smile lit up his entire face. If it were her choice she'd gladly play with both. Hell, he was just as hot as Kevin, but in a softer boy-next-door way.
"Is this about sharing your toys?" She grinned.
"No. It's about sharing the pleasure." Kevin replied.
"How do we know your friend likes girls like me?" She stared straight at the gorgeous man who she'd swear could be a model for any magazine. She'd already known Kevin wanted her. Now she had him here, and he and that other sexy guy appeared to want to lose all inhibitions.
"His friend," Sexy guy answered, "loves women with curves. He likes to suck caramel skin and to lick on beautiful Latin pussy."
Her throat went dry. She had caramel skin and was Latin. And if he was ready to play, then fuck it all, so was she.
Kevin pulled her closer to him, rubbing his body over her softer one. The bar of his cock poked at her belly. Her pussy quivered and wetness pooled at her panties.
"I've been wanting you for months, little one." His voice was low, rough, and incredibly sexy.
"I've been wanting you all year." She trailed her hands under his shirt, to feel the hot muscles under her palms.
He cupped her face and brought his head down to kiss her. Finally. Arousal grew with each breath. Their lips met and sparks flew. He took his time savoring her mouth. Like she was expensive wine and he wanted to enjoy every taste. Her tongue darted to meet his in a sensual exploration.
Sexy Man caressed her from behind. His hand slid down her back, gathering the material of her skirt and bunching it up at the waist. He moved lower to pull down her tiny panties, dragging them down her legs. Kevin continued drawing her to play with his tongue. Darting and retreating in her mouth, he became demanding with the oral assault.
Soft kisses rained on her backside from Sexy Man's mouth. He squeezed her round ass and patted her cheeks.
"So hot." He muttered.