Amber/Mikela Birthday Bash ~ Giveaway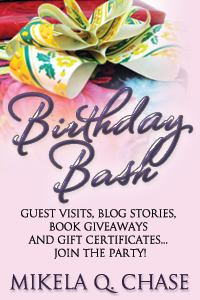 HAPPY BIRTHDAY AMBER/MIKELA!!!!!
Amber has been celebrating the entire month of November. Today it's my turn to help her celebrate. Below is a quote from Amber on her Rhea story…If you'd like to know more about this story, check out her website by clicking on the birthday banner to the left. There are giveaways!!! (I am giving something away at her blog too! So you have to stop by and check it out!)
~ ~ ~
"There you are!" The wild look in Jamie's eyes and the speed in which she rushed over to greet Rhea said stronger than words that things weren't going well with the in-laws.
Rhea spotted the queen and the prince sitting at the tea table. If she scanned the room for a certain dark-haired king well no one seemed to notice or if they did they didn't mention it.
Jamie's fingers dug into Rhea's arm as she grabbed her tightly and dragged her to the table. "Come have tea with us. I haven't seen you since we landed. How are you doing sister dear?"
"Is it that bad?" Rhea whispered.
"Yesss," Jamie hissed back quietly.
Rhea bit her lip so she wouldn't burst out laughing. "Nice to see you again," Rhea told the queen then she nodded politely to the prince as she took her seat.
"Nice to see you again," Prince Marcep said with a smile. "I hear my brother is looking for you. He can't seem to keep track of you."
"I had to go talk to a dragon," Rhea explained with a shrug.
The queen's cup clattered against its saucer. "You talked to a dragon?"
"Yes, I'm supposed to help them charge their egg hatching rocks."
"Y-you can do that?" Prince Marcep asked, his eye wide with surprise.
"I think so. I mean I won't really know until I see them but Brurien seemed to think I have the right skills."
"Y-You know the king of dragons?" the queen asked.
"That's who he said he was," Rhea said. I don't know if he was telling the truth or not. He's the same one who was on the train whether he's the leader or not."
"Can I go with you when you see the stones?" Prince Marcep asked. "I've always been interested in the dragons but they have no interest in me."
Rhea turned to the queen who nodded. "Sure you can come with. I don't know when it's going to happen but I'll let you know when the dragons contact me."
"Here have some tea," Jamie handed over a cup of green colored liquid.
"Tea?" Rhea sniffed it tentatively. It smelled like flowers and spice. She took a careful sip. "It's good."
"It's my own special blend," the queen said. "It's made from desert flowers."
"I like it." Rhea smiled at the face her sister made. Jamie wasn't much of a tea drinker.
Rhea slid over a plate of sandwiches toward Jamie. Her sister would need the sustenance to make it through the afternoon with her inlaws.