Breaking the Nexus Blog Tour!
Welcome to the official release tour for Breaking the Nexus by Lindsay Avalon! This action-packed paranormal romance will be released on 12/12/12 on Amazon in ebook and print!! To celebrate, Lindsay will holding giveaways throughout the month and a release day party filled with games and plenty of prizes!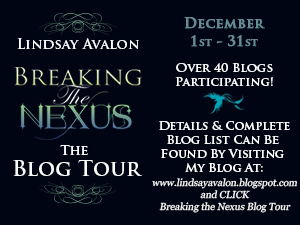 The blog tour runs from Dec 1-31 and there are over 40 blogs participating! Join her on each stop as she shares exclusive snippets from the book, answers interview questions, or guest posts, and leave a comment to enter for your chance to win prizes!  Don't forget to enter the rafflecopter grand prize giveaway while you're at it! Prizes include Breaking the Nexus swag, ebooks, custom jewelry, and more!
For a complete list of blogs participating, dates of special giveaways, the grand prize rafflecopter, and a list of the amazing authors generously donating books and swag, check out the special page on Lindsay Avalon's blog: http://lindsayavalon.blogspot.com/p/breaking-nexus-blog-tour.html
Breaking the Nexus – Coming 12/12/12!!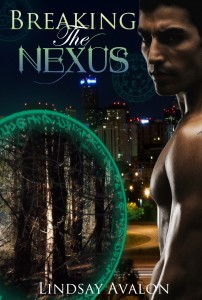 Blurb:
Throughout history, myths and legends of extraordinary creatures have been told and retold. Fantastic tales of demons and banshees, gryphons and dragons, and of course, magic. Stories that every child grows to learn are nothing more than fantasy…or are they?

Beyond the world you see lies a hidden realm, the Mythrian Realm, inhabited by all of the creatures you've been told are mere fiction. Only one thing lies between humans and the truth: the Nexus. A magical barrier erected millennia ago to separate the two realms, it has stood the test of time. Until now.

For Mythrian Sha Phoenix, magic is nothing new. But when she stumbles upon a portal on the verge of collapse, her fate will forever change. Pulled through the portal into the Human Realm, she lands in the middle of Detective Connor Flynn's brutal murder scene. Soon it is obvious someone is using blood magic to try to bring down the Nexus. Together, Connor and Sha must work to unravel the secrets before the barrier falls and the realms collide.

The Nexus is breaking and all hell is about to unleash…literally.
EXCLUSIVE SNIPPET!!
Fingers snapped in front of her, drawing her startled gaze. "Am I boring you, Ms. Phoenix?"

Sha felt her cheeks begin to burn. "Sorry, Detective. I didn't mean to let my mind wander off like that. My brain must still be addled." A noncommittal grunt was his only response. Things were off to a wonderful start, she thought with a scowl.

Long moments passed, the uncomfortable silence making her want to squirm. Oh, she knew exactly what he was doing. He wanted her agitated so she'd let something slip. They'd been taught a similar tactic during training; lucky for her, she didn't have any knowledge to divulge. Squaring her shoulders, she met his gaze unflinchingly.

"Wasn't there something you wanted to ask, Detective? Or did you just want to have a staring contest?" A small part of her liked staring into his eyes, the intense gray seeming to shift subtly, almost like mercury. Intriguing. She filed that bit of information away to examine later.

"You're hiding something, aren't you?"

She decided to play dumb. "How can I hide anything when you haven't asked a question?"

"At first I thought you were high as a kite at the scene, but you're more intelligent than I thought."

Why did it sting that he'd thought she was high? "Is that a compliment or a question?"
Meet Lindsay Avalon!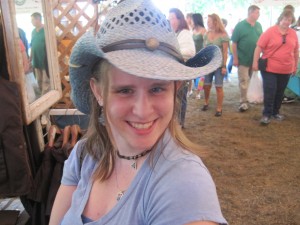 I am a wife, a programmer, and now an author. I have an adorable mini Schnauzer and more books than I have room for. I love reading romance because no matter what may be happening in my life, I can always count on my books to end happily ever after. The day I met my husband was the day I truly began believing in happily ever after. After hearing me complain a few too many times that I had "nothing" to read despite the hundreds of paperbacks scattered around the house, my husband began suggesting I write my own stories. When I finally took his advice I discovered that although I enjoy my day job as a software engineer, my true calling is to be an author.
My sister drilled into me an appreciation for fantasy and mythology, something I try to bring to my books. My debut novel, Breaking the Nexus started as a book written for NaNoWriMo and has grown to so much more. It was the conduit that introduced me to a fantastic group of independent authors who have changed my life in unimaginable ways.
When I'm not writing, I've found a passion for blogging and interviewing fellow authors. I also love reading (of course!), baking, crochet, sewing sock monkeys, playing video games, and all sorts of random crafts. I have an incurable love of rubber duckies and stuffed animals, and I believe nobody should have to grow up if they don't want.
Find her online:
Twitter: @LindsayAvalon