Book Spotlight – Skin Deep by Sarah Mäkelä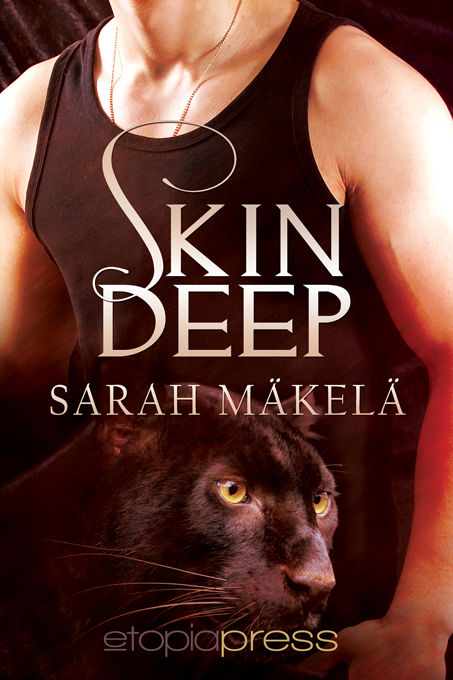 Welcome!!!
Today I have a fellow Etopian author visiting to show off her paranormal romance, Skin Deep. 
Enjoy the sexy blurb and excerpt.
Skin Deep
by Sarah Mäkelä
Blurb
Passions sizzle even between a feline and a wolf…
Angelique had no idea her black panther tattoo would force her to abandon the love of her life—Connor O'Reilly—but she's determined to keep him safe no matter how much it hurts. Her tattoo doubles as her feline familiar: loving, protective, dangerous, and with a life of its own. It's also her deepest secret and draws enemies who desire its power for themselves.
Connor has no idea why Angelique left him, but he's determined to win her back. As a werewolf, he has secrets of his own. Now his alpha is ready to force him to pair with an ex-girlfriend he can't stand unless he can find Angelique and claim her as his mate. But even as their secrets threaten to keep them apart, hidden enemies seek to destroy their chance at love forever.
Excerpt
Angelique Trinette sat on her bed with her knees pulled up to her chest and her arms wrapped around her legs. The small box on the nightstand had arrived in the mail a few days ago. Connor. Heaven knew she wanted him, but it was her birthday. After the way they'd parted last year, she couldn't imagine why he'd still keep contacting her.
The things she'd said to him…
A swish of fur brushed against her lower back, pulling her back to her bedroom and away from the memories of the tears that flowed after they'd broken up. Kira's soft feline growl reverberated against her skin. The pinprick of claws bit gently into her flesh. The black panther's energy buzzed along her body in angry vibrations.
"It's okay, Kira. I'm fine."
Kira, Angelique's inked-on familiar, reacted to her emotions. Since they shared flesh, Angelique had to always be in control, which was one reason why she'd made the choice to leave Connor.
The black panther slid up from its usual spot on her lower back and nuzzled Angelique's neck. Kira rumbled, almost like a purr, and slid her sleek body against Angelique's shoulder. The tattoo was a piece of her—a warm, living, breathing thing. The one difference between her familiar and an ordinary cat was the prickle of magical energy she exuded.
Angelique closed her eyes and leaned her forehead against her knees. Connor still cared enough to get in touch, even after all this time, but she had to trust her instincts. Her decision to leave was for his protection too. The weighty pressure of Kira growing and stretching her skin shot a well-known pain through her. She bit her lower lip to hold back her cries. Letting Kira out and into the world made her feel not so alone.
A buzzing from the nightstand snapped her from her melancholy mood, and she jerked her head up to watch her cell phone dance across the cherry wood surface. She closed her eyes, took a deep breath, and forced her familiar back into her skin. Having Kira out when she was on the phone never went well. The swishing of the mouthy big cat's tail spoke of her agitation.
Angelique grabbed the phone and nearly dropped it when she looked at the caller ID. Kira huffed and retreated to Angelique's lower back where she curled up. Vibes of edgy energy from Angelique's familiar told her that Kira thought she was acting cowardly. Maybe she was, but she couldn't face hearing his voice. She wouldn't answer it.
Instead, she set the phone back on the nightstand and stared at it. She thrummed her hands on her knees, tapping a nervous beat. "Go to voicemail," she whispered. The phone stopped vibrating. From the lack of a follow-up chime, she knew Connor didn't leave a message. Disappointment flickered within her.
Angelique sucked in a shaky breath and stood, stretching her arms over her head. The tattoo of her familiar was now just a normal carving of ink and flesh. Angelique ached with loneliness. She could awaken her familiar, but it would only irritate Kira.
Part of her wanted to double-check the phone, but no, she wouldn't do that to herself. Staring at it, she clenched her hands into a fist. This was ridiculous. She headed toward the living room, needing distance from the cell. Her stomach growled as she passed the kitchen. She hadn't eaten dinner. With providing energy for both her and Kira, food was important. Yet bed called to her, and she'd gladly forgo a meal to sleep. Birthdays always seemed to depress her.
The doorbell rang, and she spun toward the sound, yipping and grabbing her chest. Magical energy rumbled from her familiar. "Easy girl. Back to sleep for you."
Angelique took a deep breath and strode to the door. She glanced through the peephole and bit her lip hard, holding back a gasp. Her heart leapt into her throat. She'd moved, changed her phone number, and done everything she could to try to prove to him that they couldn't be together, but he'd remained persistent. Part of her admired that about him. Then again, after how she'd left things, maybe he had a right to an explanation.
She scurried to the window framing the door and pushed back the curtain. Connor glanced her way. His intense gaze locked with hers, and a frown curved his full lips down before they straightened into a thin line. He wore a sleek business suit, as if he'd just gotten off work. In one arm, he carried a large, brown paper bag. If she blocked out the last eleven months, he looked so normal. So many of their happy evenings had started this way.
She let the curtains fall from her fingertips and stepped away from the window. Of all the days for him to find her, it would have to be today.
He knocked on the door this time. "Come on, Angel. Open up."
She squeezed her hands into fists. Only he called her Angel.
"What do you want?" She glanced up at the ceiling, whispering a prayer.
"I want to talk to you."
This was proving to be yet another birthday disaster. Although she'd recognized his right to an explanation, she didn't want to be face-to-face like this with him. Not today.
Her shoulders sagged. Maybe if they talked, she'd finally make him see reason. He'd get it through his thick skull that her problems were the reason they couldn't be together.
She flipped the deadbolt before opening the door a crack. "Then talk." Her chances of him being fine with talking on her doorstep were next to none, but she had to try. Connor O'Reilly was too tempting a man to let inside.
Buy Links
Amazon – http://www.amazon.com/Skin-Deep-Feral-Ink-ebook/dp/B00A3Y9RTI/
Barnes & Noble – http://www.barnesandnoble.com/w/skin-deep-sarah-makela/1113767080?ean=2940015912227
Kobo – http://www.kobobooks.com/ebook/Skin-Deep/book-GQv0RrtoWE2aY5mvN5yDfg/page1.html?s=WNPRhL3IFka_MrNhOBHM6A&r=1
All Romance eBooks – http://www.allromanceebooks.com/product-skindeep-995118-139.html
Author Bio
Sarah Mäkelä lives in North Carolina with her husband and cats. In her spare time, she enjoys reading, computer and console games, and traveling all over the world. She is a member of Romance Writers of America, as well as the Heart of Carolina Romance Writers and the Fantasy, Futuristic, and Paranormal chapters. Find her online at www.sarahmakela.com.
http://www.twitter.com/sarahmakela
http://www.facebook.come/authorsarahmakela