Wolf Protector Release Party **WINNERS**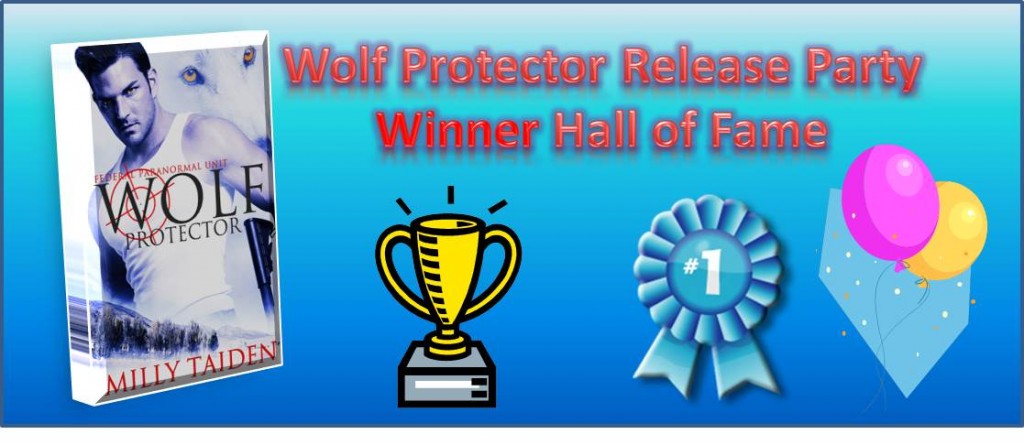 Want to know who won the games at the release party? Winners listed below in order of game played and prize to be awarded!
DID YOU WIN? AWESOME!!! GO BACK TO THE PARTY AND PM

Master Pimp 

Iris

with your address or email address if it applies
YOU HAVE 48 HRs

or your prize is

FORFEITED and a new winner

will be selected.
| | | | |
| --- | --- | --- | --- |
| Game | Host | Prize | WINNER! |
|  Trivia |  Milly Taiden |  Stone Soup bookmark |  Helena Ferrell |
|  Caption Dog |  Milly Taiden |  Stone Soup Keychain |  Amanda Jones |
|  Ramirez Photo |  Crystal Newman |  Swag Pack |  Dawn Froggy Saenz |
|  Bookgo |  Crystal Newman | Flowerpot christmas tree by B. Wilde |  Kandi Steger |
|  Erica Trivia |  Crystal Newman |  Milly Keychain |  Tami Peterson |
|  Caption Jenn Sheri Pic |  Jennifer Wedmore |  WP Tote |  Nicole Kuhn |
|  Fill in the blank |  Jennifer Wedmore |  To Hiss or Kiss by Katya Armonk |  Karen Guest |
|  Continue Story |  Jennifer Wedmore |  WP Mousepad |  Sue Ellen Robertson |
|  Fill in the blank |  Jennifer Wedmore |  Her Knight in Black Leather by JM Stewart |  Jeannie Baker-Platt |
|  Caption This – Egg |  Jennifer Wedmore |  Dangerous Places by Dani-Lyn Alexander |  Barb Hicks |
|  Create a story |  Jennifer Wedmore |  Sassy Keychain |  Kerry Erickson |
| New word for Hot |  Sheri Spell |  Nerd Accessories Keychain set |  Holly Collins |
|  Find Best Jane |  Sheri Spell | Malice Striker by Jianne Carlo |  Gaele Hi |
|  Caption Helmet Pic |  Sheri Spell |  WP Tote |  Jennifer Wedmore |
|  Caption Wood |  Iris Pross |  Keychain and Thief of Shadows by Elizabeth Hoyt |  Tina Connors Myers |
|  Bookgo |  Iris Pross |  Stone Soup Design Pendant |  CuAnam Wolfspirit |
|  Caption Kangaroo |  Iris Pross |  Milly Keychain |  Rene Nightingale |
|  Caption Baby |  Iris Pross |  Charm Bracelet |  Nicole Kuhn |
|  Caption couple |  Jennifer Wedmore |  Swag pack |  Dawn Doyle |
|  Caption man |  Jennifer Wedmore |  Key chain by Cassie |  Teracia Loretan |
|  Book Captions |  Jennifer Wedmore |  Signed copy of Lord's Fall by Thea HarrisonHalloween Heat 3 signed by Milly |  Crystal Newman |
|  Gifted Books for shares |  Jennifer Wedmore |  One of Milly's books each… their choice |  Tina Connors MyersTeracia Loretan |
|  Ask Trent |  Brooklyn Wilde |  Blood, She Read by Sara Hubbard |  Jeannie Shahid |
|  Erica's Playlist |  Brooklyn Wilde |  Key chain by Cassie |  Christy Hilton-Hall |
|  Food Porn – Milkshake |  Brooklyn Wilde |  By Surprise by Alyssa Turner |  Sheri Spell |
|  Other word for Supernatural |  Sheri Spell |  Highlander's Prize by Mary Wine |  LaGina Keisha Hagerman Reese |
|  Caption Man |  Sheri Spell | Stone Soup Key Chain |  Iris Pross |
|  Caption Egg Man |  Sheri Spell |  Swagmaster Bookmark |  Iris Pross |
|  Mate names |  Barbie Hicks |  Swag Pack |  Jeannie Shahid Christo |
|  Milly Trivia |  Barbie Hicks |  Mohawk Moon by Nicole Kuhn |  Crystal Newman |
|  Book MCs by AA |  Barbie Hicks |  WP Tote |  Kristina Haecker |
|  Fill in Blank |  Sheri Spell |  Demon's Captive by Selena Illyria |  Merisha Abbott |
|  MC Professions |  Sheri Spell |  Swag Pack |  Melissa Limoges |
|  Continue Story | Sheri Spell |  Wine Charms |  Donna Dearing |
|  Caption Bunny |  Jennifer Wedmore |  Print copy of Stephanie Laurens Devil's Bride |  Jill Prandstatter |
|  Love Scene |  Jennifer Wedmore |  WP Mouse Pad |  Mina Carter |
|  Continue the story |  Jennifer Wedmore |  Milly Key chain |  Sheri Spell |
| Shifter Combinations |  Brooklyn Wilde |  Cassie Key Chain |  Kelly Erickson |
|  Trent's Drink |  Brooklyn Wilde |  Snow Balls by Tara Lain |  Michelle Wilson |
|  Jane's Ability |  Brooklyn Wilde |  WP Tote |  Iris Pross |
| Most shares for 2 hrs |  Sheri Spell |  Milly ebook – 1 each winner |  Karen RomaMerisha Abbott |
|  Create a story |  Sheri Spell |  Cassie Key Chain |  Tiffany Krepps |
|  Create a story words |  Sheri Spell |  Swag Pack |  Jennifer Wedmore |
|  Create a story 3 |  Sheri Spell |  Mouse Pad | Crystal Rister |
caption family photo        Jennifer Wedmore       Milly Key chain           Jeannie Baker Platt
Caption back boobs          Iris Pross      Cassie Key Chain      Kelly Erickson
caption little man bike    Iris Pross      Cassie Key Chain     Jodi Murphy
SHARES
1st place
Len Phelps
Swag Pack
Stone Soup Key chain
Stone Soup Necklace
Charm/Bead bracelet
Nerd Accessories –
Bookmark set
$15 Amazon GC
Set of 5 ebooks (Iris will tell you what they are)
2nd Place
Teracia Loretan
You win…
A swag pack
Stone Soup Bookmark1
Milly Key Chain
Charm/Bead bracelet
$10 Amazon GC
Set of 3 eBooks ( Iris will let you know what those are)
3rd Place
Tiffany Krepps
$10 Amazon.com GC
Bead Bracelet
Swagmasters Bookmark
Honorable mentions
$5 Amazon GC Winners
Karen Roma
Merisha Abbott
Tina Connors Myers
Helena Ferrell
Holly Collins
$10 Amazon.com GC
Iris Pross
Jennifer Wedmore
$10 Starbucks GC
Carrie Fort
Order Receipt Winner
Elizabeth Lang – Coach combo