Caliente Blog Hop ***WINNERS ANNOUNCED***
Welcome to my stop in the caliente blog hop!!!
Caliente – HOT

Yeah baby! This is the kind of writing I like to give readers. At least I think that's what I give. I haven't had complaints in that area. I love giving my imagination wings and getting sexy when it comes to writing romance. A lot of people confuse Erotic Romance with Erotica. While I love both, there is a difference. I write Erotic Romance for the most part. The difference between the two is the emotional connection. Erotica is all about sexy baby lol. Bet you sang that bit didn't you? LOL. There is romance in my books. And always either a happily ever after or a happy for now but there is no you go your way and I go mine. No matter how the story goes I need an emotional connection and I need a happily ever after. That's the main difference between erotica and erotic romance. I do so love the fact I can give readers raw unadulterated sex scenes. I have very vocal heroines who like to tell their men what they like. They are open to exploring new things and yes, they are into some kinky stuff. So my books can be defined as caliente. I love all things caliente. Food. Men. Toys. Hell, if it were up to me I'd live in the caliente caribbean. I have caliente blood in me. So you came to the right spot if you are looking for hot.
Wolf Protector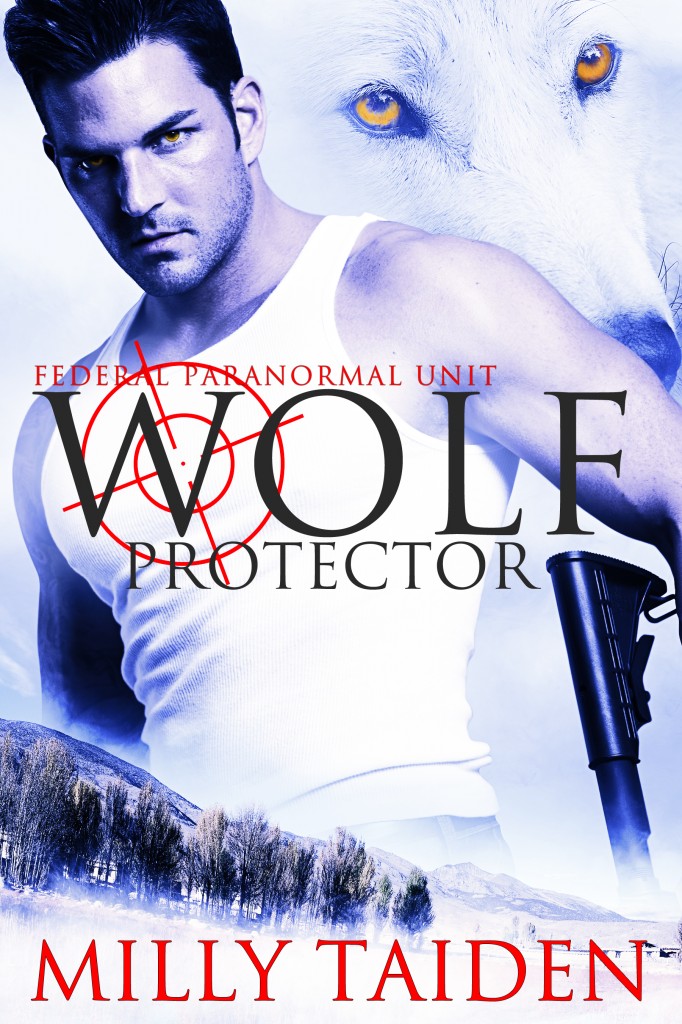 A woman with a secret…
The Federal Paranormal Unit is an elite squad of supernaturals dedicated to solving missing persons cases. Erica's gift allows her a special connection with the crime, but it comes at a deep personal cost… Until now, she's kept her gift a secret, even from the other members of the team. But this case will throw her together with Agent Trent Buchanan. He's the object of her secret desires, but he's also a cocky womanizer. She'd rather swim in shark-infested waters with a paper cut than admit she has feelings for him.
A man with one desire…
Wolf Shifter Trent wants Erica more than he's ever wanted any woman. He's spent years patiently waiting for her to admit that she wants him too. Working one-on-one in a race to find a serial killer, Trent's patience and Erica's resolve wear thin. When Trent discovers the truth about Erica, will he accept her for who she is? And can he protect her from the horrors that her gift brings?
A case that pushes them to the edge…
Erica will have to risk it all if she wants to stop the killer, and when she does, Trent may have to put his own life on the line to make sure his mate is protected…
Let's give you a super caliente bit from my book, Wolf Protector.
Caliente Excerpt

"Oh Dios…" Her breath hitched when she looked down. The hottest man she'd seen in her entire life licked, sucked, and caressed her body. He made her feel like she was the sexiest woman in the world. He looked up, and she almost came on the spot. He nibbled on her breast, and she groaned when he stopped and unlatched from her swollen nipple.

"I want you." His voice was so rough she could barely make out the words. He gripped the waistband of her pants, but he didn't unzip and open them. Instead, he watched her with expectation.

"I want you too." She panted. "Now."

Just in case he'd decided to stop, she moved her hands to the waist of her pants, unsnapped, and unzipped them. Then she watched him pull them and her panties down her legs. The sudden indrawn breath he took made her smile.

"You're so fucking hot."

He glanced up, licking his lips. Her pussy throbbed at that moment. Any thought not related to Trent licking her heat shut down in her mind.

"I swear I could look at you forever," he whispered. His gaze roved over her naked body.

He stood, kissed her again, and lifted her into his arms. She wound her arms around his neck and wrapped her legs around his waist. His hands went straight to her ass cheeks and ground her to his cock. She whimpered and released his lips. Passion licked at her skin. She moved her mouth to his jaw. Biting down on the scruffy flesh turned her on like nothing ever had. She wondered if she had a vampire complex, because licking, sucking, and biting him made her aroused beyond the point of rational thought. She dug her nails into his naked arms. He moved with her in his grip, and soon she found herself on her back on the mattress. It was hard to breathe. She watched him strip off his pants with unwavering interest.

His body—and what a body it was—was defined with muscles and bronzed skin, made her lick and bite her lip in expectation. She mentally caressed down his big frame his long, thick cock. A shiver ran up her spine, and she gripped the sheets under her hands.

"Like what you see?" He smiled wickedly.

"Si, I do. But do you know what to do with that?"

It was time for him to put up or shut up. And she really wanted him to put up.
Now for what you're getting in this awesome hop! There is a big prize up for grabs noted below. Check it out! Click on the photo to go  participate on the main rafflecopter.

Now for my prizes. 
2 – Winners (1 each)

To get a chance at this amazon gc all you have to do is use the rafflecopter below for a chance to win!!!
Thanks for stopping by and KEEP ON HOPPING!!!!