Guest Post ~ WOTSS ~ Jessie Lane
Hey all! Please welcome the absolutely sensational

Jessie Lane

! She's as sweet and gorgeous as they come. The woman has some face, eyes and hair I fall in love with every time I see her photos. But that's not all! There's so much talent. She's got a bestselling series you have GOT to read! Today you'll get an excerpt AND the dream cast for

Walk on the Striped Side

(Book 2 of the Big Bad Bite series)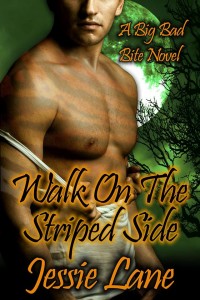 Does he have his claws in her for good? Or is she just yanking his tail?
Elena Demos's life has been turned upside down. Her mother has passed away, leaving Elena and her two half-sisters to deal with their mother's will and the crazy stipulations it contains. For the three sisters to inherit the substantial amount of money left behind, they have to go to work with two aunts they've never met, in the family business they've known nothing about, Amazons Inc. If that isn't bad enough, she runs into the man who once broke her heart, and it's only their first day on the job.
Gage Ivanov is a stupid beast. He let the woman who should be his mate go because she couldn't be told of his Other identity. Now, Elena's back, but she refuses to give in to his demands for her to be his mate. The timing for all of this couldn't be worse, either, because Gage and his circle of friends are trying to subdue a rogue pack of wolf shifters in Germany who threaten to out the Others to the world of humans. Will he be able to juggle the oncoming conflict and win back his mate?
 BUY IT NOW
Amazon: http://www.amazon.com/Walk-Striped-Side-Big-Bite-ebook/dp/B00IMIX3VA/ref=sr_1_2?s=books&ie=UTF8&qid=1393327556&sr=1-2&keywords=walk+on+the+striped+side
Barnes & Noble: http://www.barnesandnoble.com/w/walk-on-the-striped-side-jessie-lane/1118733436?ean=2940148121275
Kobo: http://store.kobobooks.com/en-US/ebook/walk-on-the-striped-side
All Romance/Omni Lit: https://www.allromanceebooks.com/product-walkonthestripedside-1429846-140.html
Walk On The Striped Side's Dream Cast – Gage & the Ivanov Family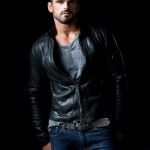 Gage and his tiger Ivanov family are a tight knit group. Although tigers tend to be loners in the wild, Gage and his kin buck that trend and stay near each other at all times. From the moment I dreamed up the growly Gage Ivanov there was one man who stuck in my mind for him. Stuart Reardon with short hair and minus his gorgeous tattoos. There's just something about his face that says he can purr you to orgasm. Hee. I don't know if he can act, but if he can't, give him Vin Diesel's gruff voice and silent man skills and Gage Ivanov is born!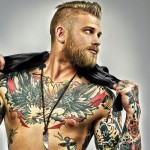 Alec is the anti-thesis of his brother. He's loud, crude and a hot mess. It's a good thing he's a fighter in the underground shifter run Black Rings, because he always finds himself in some kind of a mess he has to fight his way out of. Under all of that brash, devious and sometime rude tiger is a man with a heart of gold that will do anything for his family. I'm not sure who this guy is, but he's pretty close to how I envision my silly white tiger.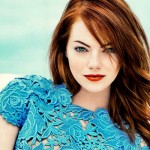 Lulu Ivanov is a pretty woman in a pickle. She's been charged with the murder of her former lover by the Ninth Circle Demon Council. The problem is, Lulu is so sweet natured that she couldn't kill a fly. Will Gage and Elena be able to clear her name with the help of Chloe and Kent in The Demon Who Loved Me? When writing Lulu I think of Emma Stone.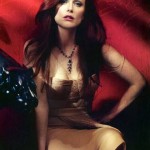 Vera Ivanov, better known as Babushka, the grandmother of Gage, Alec and Lulu is sassy, smart and drop dead gorgeous. Her advice for her three grandchildren is usually spot on, even if the delivery gets a little muddle for her lack of grasp on the English language. I always picture Julianne Moore when I think of Babushka. All style and Russian swear words.
EXCERPT
Never mind how good she looked, or that she smelled like sex on a stick, he was going to bend this arrogant young woman over his lap and paddle her ass for talking to a higher ranking soldier like that. For talking to him like that. His tiger was going nuts underneath his skin. The need to exert his dominance over her, to show her just who the fuck was in charge here, was riding him hard—harder than ever before—which bothered him. Combine that with the insane urge to show her who the bigger predator was and it caused a niggling suspicion that there was more going on here than good, old fashioned annoyance or the need to lose himself in a warm, willing body.

Sucking on his teeth in extreme agitation, he opted for denial. There was absolutely no way that this woman could be a possible mate. Surely fate wouldn't be so cruel as to try and pair him off with a fragile human that could be easily killed. He wasn't entirely sure, but the signs of compatibility were there—the natural pheromones to attract one mate to the other. His Tiger was going wild inside of him.

He was going to choose to think that those pesky coincidences didn't mean shit. Even better, he was going to ignore those signals in the name of self-preservation. He'd never wanted a human for a mate in the past, and that wasn't changing over an intoxicating scent, a pair of unusually pretty eyes, and the need to fuck a better attitude into her. Nope, he'd rather be mate-less, or settle for a mate that both his human and beast's side didn't crave with a dangerous intensity. He would rather find a mate they could grow to care for, and who would be something much sturdier than this very breakable human.

Since he wasn't paying attention to her at the moment, he only distantly heard her say, "Helllllloo… Master Sergeant Ivanov? Are you sure you want to stick to that story about getting some sleep because you don't seem to be all there upstairs to me?" Delicate fingers snapped in front of his face a couple of times, bringing his attention back to the object of his thoughts.

As he looked at her impatient face he made a silent vow to himself; whether there was a possibility or not of her being his mate, if the disagreeable woman didn't stop antagonizing him, he was going to break every unspoken rule in the supernatural Other community and unleash his claws on her backside.

As his eyes zeroed in on the unconscious, nervous movement of the tip of her pink tongue swiping over her bottom lip, Gage thought, Claws and a good pop on the ass ought to scare some respect into her.
Go check out WOTSS and Jessie Lane on GR and her website!
Goodreads page: http://www.goodreads.com/book/show/17203686-walk-on-the-striped-side?ac=1
Website Page: http://jessielanebooks.com/big-bad-bite-series/walk-on-the-striped-side-2/