Are any of your books available as audiobook?
Working on that. Have some already.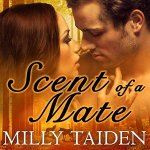 SCENT OF A MATE
Written by: Milly Taiden
Narrated by: Arika Rapson
Length: 4 hrs and 39 mins
Series: Sassy Mates, Book 1
Unabridged Audiobook
This title is scheduled to be released on 11-11-14
Buy from Audible | Buy from Tantor Media
A MATE'S BITE will be available from Tantor Media December 23, 2014.