Click on the questions to read Milly's answer.
The first answer is visible by default.
You are writing books as Milly Taiden as well as April Angel. What is the difference between the books you write as Milly and as April?
April Angel was a way to keep my contemporary and paranormal books separate so that they wouldn't confuse readers who only read one genre vs. the other. Both are erotic, just Milly is paranormal and April contemporary.
Will you continue writing books as April Angel?
I think in future I'd like to transition everything to Milly Taiden and use a single name.
You've been writing books in the past as Kitty Bush? What happened to this pen name and her books?
I used Kitty Bush as a project but decided I don't need a 3rd pen name.
What can readers expect when they pick up a Milly Taiden/April Angel book? (or: What should readers know about before they buy your books?)
All my books feature BBW (big beautiful women). I write multicultural romances with humor. Each of my books has sizzling sex and end in a happily ever after. There's romance, humor and heat.
What are your heroes and heroines like?
Heroes are strong, sexy alpha males that love and protect their women. They don't try to change who their mates are, they love them just as they come.
Heroines are curvy, sassy and sarcastic. They're fun, big girls that are tired of losers and want to find love. They want to be loved for who they are. Not if and or buts. Love is the goal and they'll take chances to get it.
Is there a reading order you recommend for any of your series? Or can all books be read as a standalone novel?
All but the PDA should be read in order stated below:
Order of series
Sassy Mates
Paranormal Dating Agency
Federal Paranormal Unit
Black Meadow Pack
Sizzling Encounters Series
Wounded Soldiers Series
Smut Shorties
The following are not series nor have additional books:
The Club Duo is not going to have additional books.
The Sassy Mates series and the Paranormal Dating Agency series are two favorites among readers. How many parts are yet to come? Do you have (tentative) release dates for them?
PDA are standalones so there's no limit.
As for the Sassy Mates, I expect 5 or 6. The next Sassy Mates book will be available in January 2015.
Will you also continue to write more books in your other series (Alpha Project, Black Meadow Pack, Devil Riders MC, Federal Paranormal Unit, Sizzling Encounters, Smut-Shorties and Wounded Soldiers)? Or are any of those series are finished as of now?
I will continue all except Black Meadow and Sizzling Encounters. They're under contract so I don't plan to continue them until I get my rights back.
Where can I buy your books?
I'm currently part of Amazon Select so you can buy ebooks there until end of December. Prints can be bought at Amazon and Barnes & Noble.
I noticed that a lot of your books are only available from Amazon Kindle. But I don't have a Kindle. What can I do?
Do you plan to release the books with other retailers (Nook, Kobo, iBooks, Google Play, etc) in the future?
I'll go back to other retailers once my time with Amazon Select is up, usually 3 months.
Are any of your books available for Free with Kindle Unlimited?
Which of your books are available in print? Do you plan to release all your series in print at some point in the future?
All my books are available in print. If they're not already, then they will be soon.
Are any of your books available as audiobook?
Working on that. Have some already.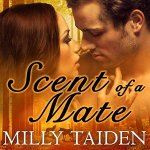 SCENT OF A MATE
Written by: Milly Taiden
Narrated by: Arika Rapson
Length: 4 hrs and 39 mins
Series: Sassy Mates, Book 1
Unabridged Audiobook
This title is scheduled to be released on 11-11-14
Buy from Audible | Buy from Tantor Media
A MATE'S BITE will be available from Tantor Media December 23, 2014.
A lot of your books feature shifters. Why shifters? What fascinates you the most?
I like furry creatures. Shifters are strong, sexy and mate for life. I love the alphaness about each of my shifters.
Where do you get your ideas?
All over. LOL. Mainly they come to me at weird times. Usually when I'm trying to fall asleep.
How many books do you usually write a year?
Where and when can I meet you in person?
2022 Cons and Events
UPDATE: I'm sorry but I will not be attending the Knockout Bookbash event in July and Books at the Beach event in September due to a family medical emergency.
Knockout Bookbash
July 26-31
Muhammad Ali Center
144 N. Sixth Street
Louisville, KY 40202
More info »
Pre-Order Books »
Books at the Beach
Book Convention & Author Signing
September 8-10
The Sirata on St. Pete Beach
5300 Gulf Blvd.
St. Pete Beach, FL 33706
More info »
Pre-Order Books »
Wanderlust
Romance Book Signing Event
September 17
Embassy Suites San Antonio River walk-Downtown
San Antonio Downtown
125 E. Houston St
San Antonio, TX 78205
More info »
2023 Cons and Events
RARE Melbourne
April 23
Books at the Beach
September 8-11
RARE London
September 16
RARE Rome
September 23
Midnight Tales
Cambridge England
October 7
I'd like to get my book signed/purchase a signed copy. Can I send you my book? Do you sell autographed print titles? Please, tell me more.
I'm a reviewer/I own a review site and I'd like to receive advanced reading copies. How do I apply and where?