Chapter One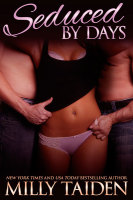 Stephanie stared longingly at the two suited men walking away from her. She needed to get laid. Like yesterday. For the past year, working for Night and Day Ink, her hormones had been in an uproar for the "Wonder Twins" aka Bryan and Brent Day—her boss, Royce Night's partners. With their cropped, dark hair in those spiky cuts, their orgasm-inducing smiles, and oh boy, the piercings, it was no wonder women had a hard time talking to them. They were the regular cover models for their catalogue with tattoos and silver adorning their bodies. And those bodies could make a desert wet. She loved working for the large corporation. They owned the most expensive and talented tattoo shops all over the United States. What she didn't appreciate was going home sexually frustrated, daily.
Thank God she'd quickly learned her lesson. First rule of working for top management: don't fall in lust. Well, don't make it obvious you're in lust with those two sexy bastards you'd get on all fours for and let spank you. There went her dirty mind giving her all kinds of mental movies of the wonder twins playing rough with her.
"Stephanie?"
Mind so lost in her world of fantasies and BDSM, she jumped at the sound of her name.
She whirled around from the distant view of Bryan and Brent to glance at her boss. Royce had that serious "what the fuck are you doing staring into space" look on his face. Dammit. That was the second time he'd caught her daydreaming. A small smile tugged at his lips, and she relaxed. He was certainly handsome in a rough and rugged sort of way. Which was what her friend, Kiara, went gaga for.
Stephanie preferred her men spiky-haired, tattooed, pierced, and in doubles, please.
"Yes, Royce?" She forced herself to glance away from the lingering cologne B. and B. had left behind to fully face her boss.
"Here's an invitation to a Halloween party we're hosting for our employees," he said, handing her a pumpkin colored envelope.
"A party?" That was new. They'd never had an actual party. Usually it was quiet dinners for the company catered in some upscale restaurant, and everyone got their bonus at the end of the night. And that only happened during the holidays.
She shrugged a strand of short, stray hair behind her ear, watching Royce's smile widen.
"Yes, a party. But I won't be there."
"Well, then, why should I go?"
"Because it will be fun. There will be a costume contest, and it's going to be in a large mansion Bryan and Brent own which people say is haunted."
Excitement spiked inside her. "A haunted mansion?"
"Yes." He turned to leave, but stopped mid-stride. "There's just one thing." He faced her again. "No going near the east wing of the house."
"Why not?"
His face lost all traces of the smile. "Those are the private quarters of Bryan and Brent when they reside there. It will be blocked off, but I'm letting you know in advance."
Right. She wanted to ask why he was telling her, but decided against it. Her mind filled at the prospect of visiting an actual haunted house and dressing up for the party.
"No worries. I'll stay away."
"Alright then. You have fun."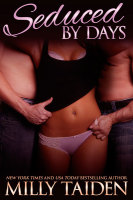 "And what will you be doing while we're being haunted during this party?" She laughed.
"I'll be getting my mate."
She didn't get a chance to ask anything else because he headed for his office at that point. Mate? Probably a friend from out of town. A lot of people referred to their friends as their mates.