Aries Revealed by Mina Carter
What can I say…Do you love cyborgs? How about HOT STRIPPERS that look like Channing Tatum? Or maybe just a badass that can kick ass and take care of his feisty girl? Then you're going to love Aries Revealed by Mina Carter. Please, read this book. It is hot, sexy, KICKASS, and so awesome you're going to finish with a smile on your face. Johnny Ram is 'DA MAN' and you will thank me for doing you the favor of giving you the heads up about this one.
Enjoy!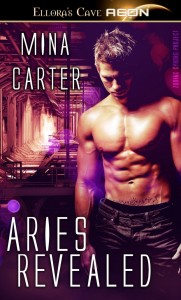 Sometimes the best place to hide, is in plain sight…
 Johnny makes a living on the strip circuits. His most popular routine? The Aries 7000. Bronzed and oiled, he pretends to be the scourge of the universe, one of the deadly and outlawed zodiac cyborgs. But Johnny isn't really a stripper playing a cyborg. He's a cyborg playing a stripper.
Milly, a freighter captain, has had a thing for the sexy stripper for months. But when Johnny, the subject of many of her hottest fantasies, asks her out to dinner, she runs. All is not lost, however; a chance encounter yields an Aries 7000 sexbot, hers for a weekend of pleasure.
 It seems too good to be true. Sex with the man of her dreams without risking her heart. But Milly's bot has some secrets…secrets that could save her life when the past returns to haunt her.