Guest Post: Assassin Mine
Guest Post: Cynthia Sax and Assassin Mine
Today I have the fantastic Cynthia Sax visiting. She's got a great love for Aliens and is the third of our crazy trio (Mina Carter being the other) Once you read one of Cynthia's stories you will be hooked! She has such a talent for writing amazing hot heroes that leave you panting for more… Take it away Cyn!
A Fierce Love
Milly and I share a lot of things. We both have crazy senses of humor. We both love with abundance. We both lust after Vin Diesel.
I especially lust after him when he plays Riddick, the Furyan mercenary, the last of his kind. I love that type of hard, cynical tough hero, the man who insists he doesn't love or care for anyone. When he meets that special woman, that one female who 'gets' him, he fights his attraction as fiercely as he fights the rules around him.
You and I both know that once he accepts this love, he'll also fight to keep it, not allowing anyone or anything to harm his woman. There are no limits to what he would do to keep her safe. He'd kill for her, die for her.
THAT is damn sexy. I like to think my salesman hubby would do the same for me (though he is more likely to do battle with words than with other weapons).
Darius, the Balazoid assassin in Assassin Mine, is that type of hero. He doesn't want to feel anything for Sabria. He certainly doesn't want to love her. Loving her is dangerous and risky and forbidden, yet it is inevitable because the more he fights his feelings, the more he cares.
And when Darius falls in love, boy, oh, boy, does he fall hard. There is no rule he won't break to keep her by his side.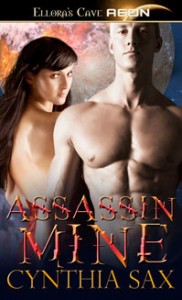 Blurb:
 Darius, a Balazoid assassin, lives a solitary life structured by rigid rules. Nothing is more forbidden than his sexual attraction to Sabria, a sultry human female. Yet she's all he thinks about. One kiss, one touch, one heart-stopping encounter in a darkened alleyway isn't enough to satisfy his unnatural obsession. Breaking every rule on both of their planets, Darius captures Sabria and takes her for his breeder.
Sabria takes one look at Darius and she knows she'll have him…multiple times, in all sorts of positions. She'll voyage to the end of the known universes to prove she's the only breeder he'll ever desire, blazing his notions of how a female should behave.
 Because the only force fiercer than a Balazoid assassin is a woman's lust.
Buy Link:
http://www.jasminejade.com/p-10317-assassin-mine.aspx