Sharp Change Release Day – Contest! Winners Announced!!!
Hi All!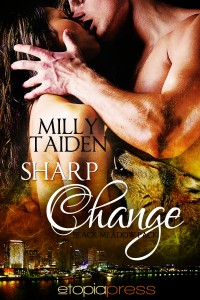 In honor of Sharp Change's release today, we'll be having a contest all weekend.
Giveaway: 1 $25 Amazon.com Gift Card, 3 Tote Bags w/ Sharp Change cover photo.
4 winners will be announced by Monday morning.
Tote bag winners:  Diamond, Ivetsy, Carol, Jhody and a bonus bag goes to Crystal
Amazon.com GC: Carrie
I will contact each of you via email. Congratulations!
Thank you all for participating!!! It was great fun to see what movies others enjoy to scare them. I will have future contests and hope others join in.
I'm not sure if you are aware, but I am BIG horror movie fan. I mean hubby and I can watch that ALL the time! We are already making plans to go see the Possession in hopes it will scare us. Anything scary, creepy or involving aliens? We're there. So, with that in mind (and the fact Sharp Change has to do with my favorite shifters, Werewolves) I am having a contest. This contest is easy. All you have to do is comment telling me what your favorite scary movie is.
My all time favorite is Aliens. Although, Pitch Black is a high second, because of that sexy strapping Vin Diesel, but Aliens will always come on top.
There's humor and action and a rambo-like Ripley. It ROCKS!
So, for a chance to win 1 $25 amazon.com gift card or a tote bag with Sharp Change cover, tell us your favorite scary movie.
Buy Sharp Change NOW – amazon.com