Mr. Buff – Excerpt
Excerpt:
"So? What's he doing? Come on, come on. Stop holding out already." The soft, feminine voice on the other end of the line whined like a child. Alexandra rolled her eyes and tried not to smile.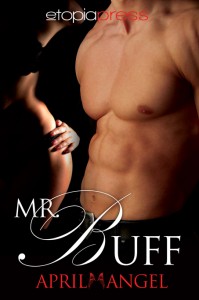 Why in the world had she decided to tell Nina about Mr. Buff? Every morning, like clockwork, she'd get a call from her best friend and cousin requesting updates. Wound up and ready to pant, she looked into the office right across the street.The large, sparkling glass windows on both buildings allowed her to view the man walking around. She drank in the sight of the large, buff body, hence the name Mr. Buff. The man definitely took his workouts to heart.
"Alex! What's Mr. Buff doing now, chica? Tell me please, please, pretty pleeease?" Her fiery cousin, Nina, was a pain in the neck when she thought she was missing out on something good—especially information about one sexy, half-naked man, a man currently running long fingers through his impeccably cut hair.Alex watched a few locks fall across his forehead. "Not much. He's about to put his shirt on."
"Crap. Listen, I have to go, but you have to record this stuff on your phone and e-mail it to me. Stop being so selfish and share. You know I don't have a man right now. I can use all the visual stimulation I can get."
She hung up on her cousin's laughter and continued watching the top contestant to fulfill all her fantasies dress. Under an idyllic trance, she visualized the rest of him when he was in the shower. Excitement hurled through her at the thought of getting a peek at Mr. Buff in the wet room. A streak of unbidden desire whisked through her veins and raced down to her cunt.
Her brain, better than any digital calendar, had recorded his schedule down to the minute. Each morning, he walked into his office wearing his workout gear. In running shorts and tank top, his body glistened with perspiration. Every time she got a glimpse of all that sweat-covered brawn, her nipples pebbled.In wide-eyed enthrallment, she watched him head into the bathroom attached to his office to shower. Every single day it was the same. He walked out in his suit pants but never the shirt. She wondered if he had some kind of conspiracy against her hormones.
The display of contracting muscle made her breath hitch.His powerful back and amazing, tight ass were sending out Morse code signals, beguiling and inciting her interest.His white, tailored dress shirt cut the visual feast short. She had to bite back the urge to scream. Not that he would hear her, but her coworkers sure would.Why not just go over there and ask the man out? Typically, she would have done that already. Found out his name, instead of just calling the poor, sexy, strapping creature Mr. Buff, at the very least. "Go after what you want" was her motto in every aspect of her life; she was a self-assured woman.
Until recently, she didn't lack self-confidence. Thanks to her ex, her confidence had taken a whipping some months back.Jerk-off Jack had been cheating, and the confrontation that followed was not pretty. Questions that had never existed before rose with his words: "You're a control freak, Alexandra. No man wants a woman telling him what to do in the sack. Sometimes I want to be the one leading. You're too aggressive. You're a good fuck, but not someone I could ever be with long term. I even wonder if you're faking it at times."
Oh yeah, Jerk-off Jack had definitely let loose.Would she be able to find a man who would want her, deal with her for who she was and not try to change her? At thirty-three she was tired of the dating scene. Was it so wrong that she wanted to meet someone and maybe settle down? Alexandria refocused her mind, her vision still glued to Mr. Buff. Oh shit. He was watching her. Heat crawled across her skin and settled over her cheeks. Embarrassed, she gave him the usual small smile and microsecond wave.His wicked grin turned the man from handsome to outright gorgeous when he waved back. Balling and holding papers in a death grip, she dropped her gaze. All she needed was for the man to think she had some kind of sick fetish for watching him.