Wicked After Dark – Blog Hop – Oct. 24- Nov. 1
Milly's WICKED Read…
Hello!!!
I am participating in the Wicked After Dark Blog Hop!
This is very exciting because I get to talk to you about my wicked sexy book.
Sharp Change
In honor or Halloween and all the things that go bump in the night, I chose my paranormal book to share with you some seriously sexy werewolf action.
Sharp change is the story of my girl Sophia (a scientist) and the one Alpha that makes her panties wet and her heart beat to the tune of a billion drums.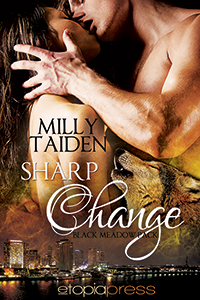 Sharp Change 
Only the hottest sex can cool a wolf in heat…
After her sister is bitten by a werewolf, geneticist Sophia Reece begins researching shape-shifters and isolates a gene she calls Furry Beast—FB for short. But in her excitement over her discovery—dancing in the lab is never a good idea—she has a teeny little accident with the samples, one canine, one feline, and winds up landing on the syringes, pointy side up.
Werewolf Chase is head over heels in lust with Sophia. He can't stop thinking about the human's sexy body or how badly he wants to get her naked. But she acts as if he has fleas. So why, all of a sudden, does she stare at him like a wolf in heat? And what smells like cat?
When she experiences her first mating heat, Sophia isn't prepared for the new feelings she's experiencing, and her secret desire for Chase refuses to remain under wraps. For Chase, this is his wildest fantasy come true—to finally get his hands on the curvy, caramel-skinned Latina. But when some serious predators come sniffing around her research, Sophia will have to find out what she's really made of, and Chase will have to decide if he's man—or wolf—enough to make things permanent…
For this Blog Hop I am giving away:

1 – e-copy of Sharp Change.

1 – $10 amazon.com GC

Comment below with your email addy for one entry.

Follow me on twitter @millytaiden and like my facebook page http://www.facebook.com/millytaidenauthor  for additional entries.

US/CAN and International entries accepted
a Rafflecopter giveaway

Add to your chances of winning by hopping to the others listed below!

Come join us for a Naughty Halloween Hop!