Cover Reveal – Caged Heat
Hello my wonderful friends and fans!
How are you all doing today? Ready to check out the latest addition to my cover candy?
Today I am shamelessly showing off the newest in my

Black Meadow Pack Series –

Caged Heat

– Book 2
*DRUM ROLL PLEASE*
Lovely readers, I present to you Caged Heat: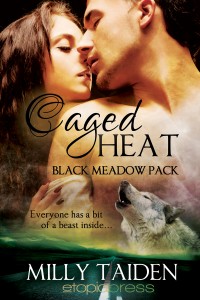 Everyone has a bit of a beast inside…
After five years traveling through third world countries to teach impoverished children, Samira Suarez has returned home to Black Meadows. What Sam didn't expect was to be instantly overwhelmed by the desire to be with the one man she's wanted since she was a teen, Riel Karven.
Riel has been patiently waiting for Sam's return. For five long years he's backed off and watched her come and go. This is it. His mate is back and he's taking a stand.
Sam's need for Ry grows to unimaginable proportions. It's almost as if she were in heat. But she's a human…isn't she?
There's more at stake than Sam and Ry's future relationship when she inherits her grandmother's estate. One of her many relatives wants her out of the way.
It's going to take all of Ry's determination and help from his friends to keep her alive.  And it's going to take delving into her past to find out why a human is going into mating heat.
Meet Sam and Ry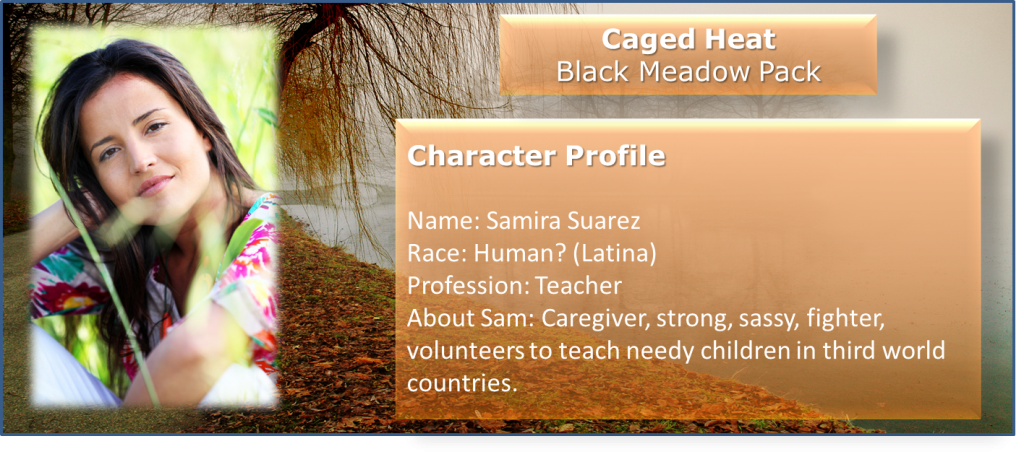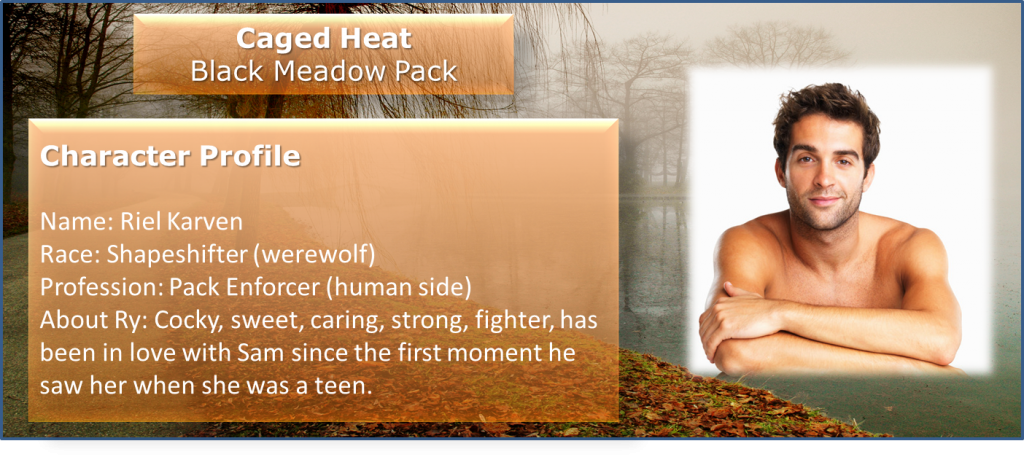 Caged Heat

will be coming to you…
March 1st
Now let's take you back to book 1 – Sharp Change. The story of the pack alpha, Chase and his mate Sophia.
Sharp Change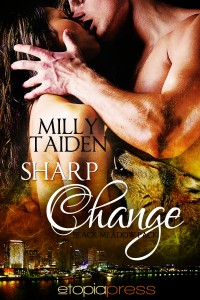 Only the hottest sex can cool a wolf in heat…
After her sister is bitten by a werewolf, geneticist Sophia Reece begins researching shape-shifters and isolates a gene she calls Furry Beast—FB for short. But in her excitement over her discovery—dancing in the lab is never a good idea—she has a teeny little accident with the samples, one canine, one feline, and winds up landing on the syringes, pointy side up.Werewolf Chase is head over heels in lust with Sophia. He can't stop thinking about the human's sexy body or how badly he wants to get her naked. But she acts as if he has fleas. So why, all of a sudden, does she stare at him like a wolf in heat? And what smells like cat?When she experiences her first mating heat, Sophia isn't prepared for the new feelings she's experiencing, and her secret desire for Chase refuses to remain under wraps. For Chase, this is his wildest fantasy come true—to finally get his hands on the curvy, caramel-skinned Latina. But when some serious predators come sniffing around her research, Sophia will have to find out what she's really made of, and Chase will have to decide if he's man—or wolf—enough to make things permanent…
Buy Sharp Change 

Amazon