Cover Reveal – Party Crasher & Giveaway ***WINNER***
It's Cover Reveal Day! And what's a new cover without a giveaway? LOL
 **
WINNER IS HEATHER! Sending you an email Heather!**
Cover candy. It's the things that make us say 'oooooh' or 'eh'. A combination of a good cover and an interesting blurb can make anyone want to read a book. As an erotic romance writer, covers are very important to me, because they need to show the reader some of the sexiness that's happening inside the book. I love when I get a new cover and it brings a smile to my face. I have been lucky thus far and have great covers. Just take a look at the one for

Wynter's Captive

or

Wicked Valentine

.

Stranded Temptation

has such great colors as does

Fate's Wish

. But even further back to

Sharp Change

, you see the amazing work the artist did to create a captivating cover. I think one of the things I like is not having covers that look like anyone else's. I know there's limited amount of stock, but I don't want to be a repeat offender to the same cover. It's kind of sad that you sometimes see a lot of books with the same cover. I like to have a cover that can capture attention and isn't going to remind readers of a different author's book. I can't wait to show off my cover for

Caged Heat

. The story alone makes me smile and you'll love the cover. It's being revealed on 2/21. The day before my sexy

Party Crasher

is up for sale.

And without further ado… Here is Party Crasher!
Coming to you 2/22 (ONE WEEK) from

April Angel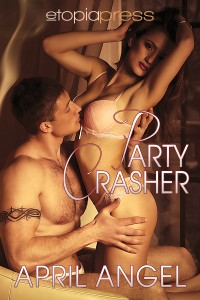 Being nosy can be delightfully satisfying…
Chris wants a story. One that will make her crash her brother's best friend- her biggest nemesis -Drex's party. So how does she end up tied to a bed, in his room, asking him to do some mind blowing things to her?
When Drex stops seeing Chris as his brother's kid sister and more as the woman he wants and can finally have, things get really interesting. But after the party, someone wants her out of the way.
He isn't willing to risk her life and she isn't willing to risk her heart. Will he find a way to keep her alive and make her realize they belong together?
Have you checked out my facebook page? Come over and have fun with the rest of my friends.
GIVEAWAY
For a chance at a $5 Amazon.com GC.

Share my cover reveal. However you choose to do it it's fine (Facebook, Pin, Tweet, etc) and just come back and tell me what you did.

Leave a comment and be sure to leave your email :D