Guest Blog & Giveaway – Hunger Embraced – Jennifer James
Welcome lovely readers!
Today I have a sweet deal for you guys. The lovely

Jennifer James

is visiting!!!
Jennifer writes fun, snarky, super sexy stories with heroines that don't pull any punches. Go ahead and check out Jennifer's books!
Today she's giving you a bit of her latest release

Hunger Embraced

AND also having a giveaway she's sharing here.
So check it out!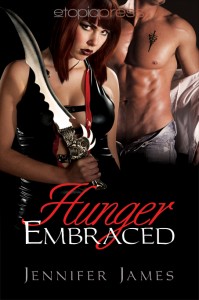 She's fed up with being fed on.
All Miranda Thibodeaux really wants to do is survive corporate hell and be left alone. But as the daughter of the Incubi king, being left alone isn't on her schedule. And as an avatar to a goddess with multiple personality issues, taking things in stride isn't either.
Daniel looks like an ordinary surfer boy–T. T. B.–Tall, Tanned, and Blonde. Hot he may be, but ordinary he's not. Beneath the pretty packaging lies a ruthless warrior, a servant to the Vampire Council. His mission is to find Miranda and present her to the council, then get the hell out of Dodge before he loses his focus. The last thing he needs is the distraction of the testy female.
When circumstances force Miranda to turn to T.T.B. for help, they both end up with more than they bargained for. And that normal human life she wanted? Not really doable when everyone wants a piece of her…
Excerpt:

"Kneel down. Please."

I lowered myself to my knees in the water. It came up over my breasts, and I tried to formulate an argument for why this would never work if he was going to wash my back. He knelt next to the tub before I came up with something and began to lather the washcloth. Gripping my left shoulder with one hand, he moved his right over my upper back and shoulder blades with a thoroughness that left me aching. He scrubbed across my lower back, being careful to never dip too low. I fought the temptation to stand up again so he'd have to touch my ass, but the man was a masterful masseuse. Relaxation spread through every muscle he caressed and stroked.

"What do I have to do to get you to rub my whole body like that?"

He stilled and leaned in close to my ear. The tickle of his breath against my neck and earlobe gave me chills when he finally spoke. "Perhaps if you would behave I could be persuaded."

"Perhaps I would behave if you would stop being so damned stubborn."

I reached up and around to grab the back of his head with my right hand and pressed my fingers into the soft hair at the nape of his neck. I liked the texture of it when I ran my hand upward, against the grain. He drew lazy circles on my shoulder with his thumb. I turned my head and caught his lips in the barest whisper of a kiss, a light, teasing brush I followed by running the tip of my tongue along the lower.

Both of his hands were on my shoulders, running down to my biceps and back up. It was all the encouragement I needed to kiss him harder. I took his lip between my teeth and bit it before licking the hurt away. One or both of us groaned the moment before his bare chest collided with my back. The bunch of curls in the center of his chest grazed my skin. He leaned into the kiss, biting down and grazing my mouth with the barest hint of fang. He was careful not to cut me, teasing with the sharp tips, and sucking my tongue.

He held me in place when I tried to turn around. Frustration built, and I chafed my thighs together. I was so exhilarated by the intimate, slow sharing that I'd take it any way I could get it.

He retreated and held me at arm's length. "I must go." But he sat there, still rubbing my shoulders and upper arms, staring at my mouth as though it held the answers of the universe.

"Mmmm." I tugged at his left hand until he gave in and took the index finger between my lips. I licked the digit from base to tip and then sucked it hard before releasing it with a light pop. He shook his head as though dazed and staggered to his feet.

"This is dangerous. This is crazy. I must leave before—" An erection strained the front of his pants.

"Before what, T.T.B.? Before you give in to what you want?" I stood up, and he spun back around. I liked the way his eyes raked me from top to bottom and hinged on my breasts before he could meet my eyes again. "Before we have sex again? Before you face your feelings?"

"I cannot, Miranda. No matter how much I want you. I would give up and destroy anything, everything for you. I would forsake every vow, tear apart the bricks of the temples of every god known to existence. It is not, you are not, meant for one such as me." His voice broke on the words, and his shoulders rose and fell. In a flash of blurred motion he moved to the far side of the room.

Screw that.
Now for the GIVEAWAY!!! BE SURE TO USE THE RAFFLECOPTER!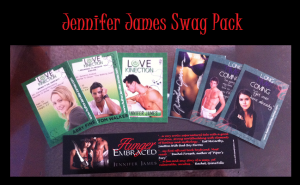 a Rafflecopter giveaway

Buy Links:
Amazon           All Romance Ebooks              Barnes and Noble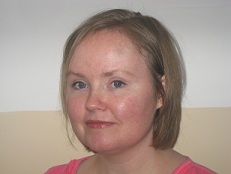 Meet Jennifer:
Jennifer James never thought she would be a multi-published author of erotica and erotic romance. What she likes best are happy endings – whatever that might mean for the characters. Wife, mother of two Tiny Divas, and college student, when not writing Jenn enjoys the outdoors, adventures of all sorts, horror movies, and the occasional comic book.
Follow Jennifer:
Website           FaceBook       GoodReads    Twitter       Love Scenes and Wet Dreams