Lucky in Love Blog Hop ***WINNERS***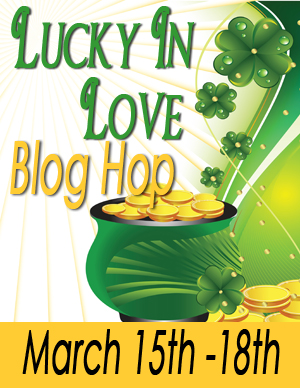 ***CONGRATULATIONS WINNERS***
Crystal, Dawn and Kristin each won a $5 amazon.com GC!
Welcome to my stop in the Lucky in Love Blog Hop!!!
Lucky in Love? Well, are you? It's a time of luck and wealth…or not. With each romance we find ourselves in a new world of love and memories. Are these just by chance? Is it luck? Welcome to your second annual Lucky in Love Blog Hop where we want to hear about your love, your romance, and how much you love St. Patrick's Day!!! Are you wearing green? Ready to get pinched…or wait…do you like that?
Almost 300 bloggers have giveaways and posts about those men we love! 
We have TWO grand prizes. You as a reader can go to EACH blog and comment with your email address and be entered to win. Yep, you can enter over 200 times!

Now what are those prizes?

 

1st Grand Prize

:

A $100 Amazon or B&N Gift Card (INT)

2nd Grand Prize:

A Swag Pack that contains paperbacks, ebooks, 50+ bookmarks, cover flats, magnets, pens, coffee cozies, and more! (US ONLY)
 What an amazing giveaway from all the bloggers all for you!
I have always considered myself lucky. In life. In love. In everything. Not necessarily because I have good luck, but because I feel that good thought will bring me good luck. So generally speaking, I may not always be lucky but I like to think my luck is pretty good. Some people believe they create their own luck and I am somewhat in that frame of mind, but I don't like to test the waters since my family is very eccentric LOL. I still think that in love there can be a combination of luck and common sense. What about you? Do you think you've had luck in love?
Take a moment to read about my latest release, Party Crasher.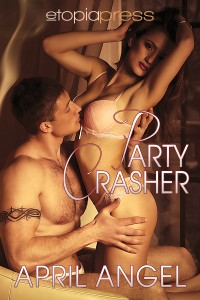 She crashed his party and became his prize…
According to one annoying Drex Callum, Chris is a "nosy reporter." And maybe she is. She's heard of the super secretive event known as the Seduction Party, and she won't be content until she finds a way in. The last thing she expects to find is that Drex is the host. She'll never get an invitation from her nemesis—unless she finds a way to get one herself. And breaking into his house is nothing if it means getting the scoop. But what she gets instead is an eye-full of the man himself, half-naked and more than she'd ever dreamed he could be in all her teenage fantasies.
Drex has been fantasizing about Chris forever, and now that she's a grown woman, he still has a hard time treating her like one. So when she shows up at the Seduction Party—on the auction chair!—he's got no other choice but to teach that nosey woman a lesson. He never dreamed sex could be like this, with Chris in his room, tied to a bed, asking him for stuff that blows his mind…
 But when things turn ugly, it becomes clear that someone wants the nosey reporter dead. And Drex will have his hands full trying to keep his prize safe…
 Amazon ~ ARe ~ Barnes and Noble
And now for my giveaway! Yay! You came all this way to try to win a prize and I have 3 yes 3 prizes to give :D
3 winners – will each win a $5 Amazon.com GC

All you have to do is use the rafflecopter and comment – have you been lucky or unlucky in love. There's more ways to earn extra entries.

Be sure to leave your email in your comments for the grand prize drawing.
CLICK ON THE PICTURE BELOW TO GO BACK TO THE MAIN HOP PAGE AND KEEP HOPPING! GOOD LUCK!!!