SPS: Some More Party Crasher
Another bit of Party Crasher. OUT NOW!!!
Enjoy
 "I'll be fine. I probably just need a back rub or something." She tried to keep from laughing but when she turned her head and noticed his gaze had strayed to her ass, it was hard to stop the giggles.

"A back rub?" His voice had deepened and his cock was once again standing at attention.

"Yeah. Maybe kiss the boo-boos. You know, to make them all better." She licked her lips and stared at his hard cock. Peering up at him, she watched the flame of lust darken his eyes to that stormy blue that spoke of arousal and unleashed passion.

He crawled on the bed with a prowl and ran his hands up her legs. "If that's the case, then I will have to kiss every single bruise until they are all feeling better. I think I'll start with this one."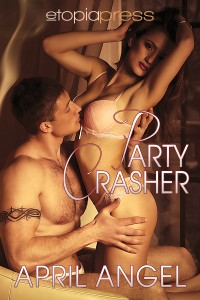 She crashed his party and became his prize…
According to one annoying Drex Callum, Chris is a "nosy reporter." And maybe she is. She's heard of the super secretive event known as the Seduction Party, and she won't be content until she finds a way in. The last thing she expects to find is that Drex is the host. She'll never get an invitation from her nemesis—unless she finds a way to get one herself. And breaking into his house is nothing if it means getting the scoop. But what she gets instead is an eye-full of the man himself, half-naked and more than she'd ever dreamed he could be in all her teenage fantasies.
Drex has been fantasizing about Chris forever, and now that she's a grown woman, he still has a hard time treating her like one. So when she shows up at the Seduction Party—on the auction chair!—he's got no other choice but to teach that nosey woman a lesson. He never dreamed sex could be like this, with Chris in his room, tied to a bed, asking him for stuff that blows his mind…
But when things turn ugly, it becomes clear that someone wants the nosey reporter dead. And Drex will have his hands full trying to keep his prize safe…