Guest Post & Giveaway ~ Fire Within
Hello you awesome readers!
Today we have the amazing Ally Shields promoting her newest book in the Guardian Witch series: Fire Within. This is the second installment after Awakening the Fire. If you have not read it, GO GET IT NOW! You will love it! I sure did. Now, without further ado, Ally Shields and Fire Within talking about favorite things.
Take it away Ally!
Favorite Things, Promo & Giveaway!
Hi, Milly! Thanks so much for letting me tell your readers about my new urban fantasy release! I brought my witch heroine Ari so she could answer a few questions before she takes off to round up a group of rowdy werewolves. I promised I'd keep it short, so I decided to quiz her on a few of her favorite things.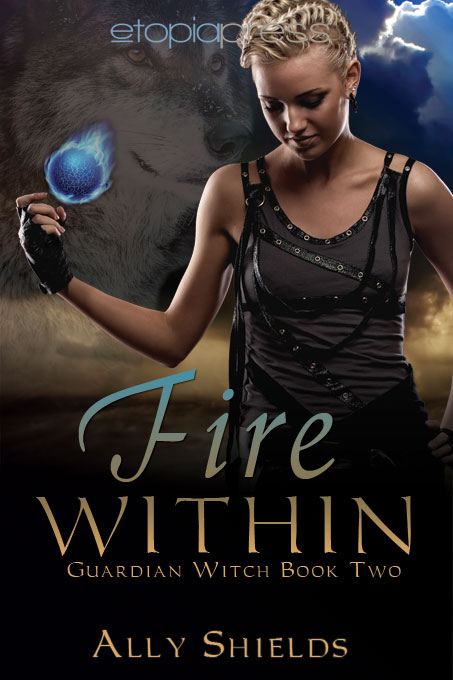 Q-1  Favorite drink
Ari:  Coffee, black and keep it coming.
Q-2  Favorite place to visit
Ari:  I don't usually travel far from Riverdale. I'd love to see parts of Europe, but I'm not sure I'll ever find the time. I visited Toronto, Canada last year, but I was on the job, so I didn't look around much. I'm not sure I want to go back as long as Sebastian is the vampire prince.
Q-3  Favorite time of day
Ari:  That's an easy one. Midnight—the witching hour. :) Full moon, walking in the woods. It doesn't get any better than that.
Q-4  Favorite person to be stranded on an island with.
Ari:  Are you kidding? There aren't any islands around here, and if I was stranded on one I'd be too busy finding a way off to care who was with me.
Q-5  Favorite author
Ari:  <grins> You want me to say you, don't you? How about Kim Harrison. Rachel Morgan's pretty cool.
Um, well, okay. Not a bad choice. But on that note, I think we'll move on to the book. Thanks, Ari, for spending time with us.  (waves as Ari dashes out the door)
Now, on to the main reason for my visit. Let me reveal Fire Within (Guardian Witch #2)!
Book Blurb:
A hidden evil stalks the city…

 

Fire witch cop Ari Calin refuses to believe her human friend Eddie murdered a vampire—in spite of his confession. When a second vampire dies, Andreas, the sexy, charismatic vampire she dated and split from eight months ago, joins her in the hunt for the real killer.

 

But Riverdale may have a special kind of serial killer who's looking for the next vampire victim. The roles of hunter and hunted become blurred. And while unterHunAri might feel like killing Andreas at times, she doesn't want anyone else to do it…
Quick Peek Excerpt:
(Ari is talking with Lilith, an old friend, who hasn't seen her recently, not since the night of a violent werewolf fight and Ari split up with her vampire boyfriend. Ari has just told Lilith she is going to approach a potential witness in the murder case at a dangerous vampire bar.)
"Can't you take someone with you? Like Andreas?"

 

Ari tapped a finger on the desk. Lilith was prying for information. "No, I haven't seen him in months," she said curtly. She hoped Lilith got the point this was an unwelcome topic.

 

"Um, still like that, is it? Kind of hoped you'd worked it out, but I guess the rumors are true."

 

Ari almost asked, what rumors, but caught herself in time. Lilith never had been shy about saying what was on her mind, no matter how intrusive, and she was waiting for Ari to encourage the personal conversation. When she didn't, Lilith let it drop.

 

Of course, Ari would now continue to wonder what Lilith had heard. After all, there wasn't much to know. Their split had been a very public affair. She had ordered Andreas to stay away from her in front of several witnesses.
Buy links:
Amazon:  http://www.amazon.com/Fire-Within-Guardian-Witch-ebook/dp/B00BQN1YUU/
B&N:  http://www.barnesandnoble.com/w/fire-within-ally-shields/1114797385?ean=2940016295343
ARe:  https://www.allromanceebooks.com/product-firewithin-1112003-139.html
Author Bio:
Ally Shields was born and raised in the Midwest, along the Mississippi River, the setting for her urban fantasy series. After  a career in law and juvenile justice, she turned to full-time writing in 2009, and Awakening the Fire, the debut novel in her Guardian Witch series, was released in September 2012.  Ally still lives close to the Mighty Mississippi with her Miniature Pinscher, Ranger. When not writing or reading, she loves to travel in the US and abroad. Way too often she can be found on Twitter.
Contact links:
 GIVEAWAY!!!
I'm so eager to share this series that I'm giving away a free ebook of Fire Within to:
A random commenter (or book #1 Awakening the Fire, if you prefer).

COMMENT. It's that easy.

Good luck, and be sure to leave a way to reach you with your prize! :)