Guest Author – Next Move – S. Garie
Hey you awesome readers!

I'm gearing up for RNC! But before I go I have the fantabulous Sabrina Garie here to give you all a taste of her newest smexy book,

Next Move

. She's also talking about date nights. Sigh. I don't have many of those often. I'm excited to read more. Stay with us and check it out!
Date Night
Can you think of places you've been on a date that have really impacted the quality of the evening or somehow reflected the underlying nature of your growing relationship? 
Creating venues for dates between the hero and heroine is not only fun but can also be done in a way to enhance or circumscribe the couples' interaction. In Next Move, I twice used the restaurants as vehicles to advance the story.  My favorite is Carousel, an artsy bar with open mic nights, poetry readings and the place to be in the small town of Madison.  Let's take a quick look through the snippet below and then I'll tell you what I was trying to do with it.
"Let's go out and have some fun. It's open mic night at Carousel. A chance to laugh at Madison's finest if there ever was one."

His bellow brought a smile to her face. "You never do anything on a small scale, Joci. Let's go be seen. I'm driving if you want to keep chugging scotch."

"Spoilsport."

Carousel, a former production factory for ceramic carousel horses refurbished into a restaurant, was hopping when they arrived. Jocelyn had helped the owner finance the renovation so she could always get a seat when she needed it. Vanilla-scented candles topped mosaic tables, each individually designed by a local artist, creating an eclectic but artsy feel to the room. Jared's finger idly traced the blue, green and black tiles of the storm motif raging across their tabletop. "This is how we met," he said.

"Looks like we would've met anyway."

"True, but the outcome probably wouldn't have been the same."
Would she have let him in her life had it happened otherwise?
In this scene, we first are reminded of Jocelyn's importance to the town, that her footprint is everywhere.  But Jared first meets her outside Madison and thus from the beginning has always seen her a differently than everyone else, an insight which the design of Carousel reinforces. This creates a fertile atmosphere for Jocelyn who is coming to terms with her feelings for Jared.
Compare this with another venue in the book, the hotel restaurant, which I did not name as a reminder of the temporary nature of the date—just two people passing time waiting out a storm.
Maybe a little flirtation, far from home, work and incessant obligations could be fun. It was just a meal, no relationship potential she had to guard against. What would be the harm? When her stomach started making bear calls loud enough to grab the attention of half the restaurant, she opted for dinner and jogged to where the hostess stood next to a small round table in the back corner of the room.
A white tablecloth partially hid the red-and white-checkered plastic cover. Sugar packets and condiment bottles competed for space with lime-green ceramic candle sticks, Riesling on ice and caviar out of a can. Framed photos ripped from old Life magazines covered the restaurant walls, leaving snippets of black-and-red-poppy wallpaper visible. "Mr. Wyatt should be here shortly, so just sit, relax and let us take care of you. Let me start by pouring you a glass of champagne."
The design of the table not only screams temporary but also hints at hidden truths underneath. A prettier tablecloth and nicer photos cover a reality of wear and tear underneath that will have to be worked through.
Thanks for stopping by. What's your favorite date venue and why?  How does it impact the mood of the date?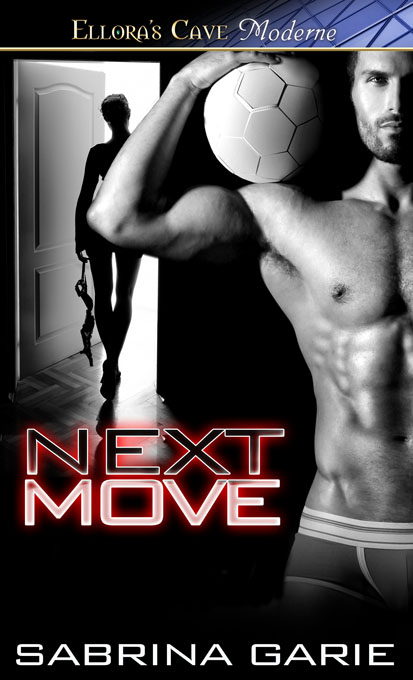 Next Move
Sabrina Garie
Chamber of Commerce CEO and single mother Jocelyn Wade plays to win—in the boardroom, at local politics and for her daughter. With an overloaded life and a heart scarred shut, she doesn't do relationships. Ever. Until Jared Wyatt, the hot out-of-town fling she can't seem to forget swaggers into her life with a different agenda—making Jocelyn his own.
Surviving a shattered marriage, Jared swore off women until a night of unparalleled passion with Jocelyn reawakens needs he thought long gone. When a new job as high school athletic director lands him in Jocelyn's town, where sports and business rule, he must stay one move ahead of her in the game to win her body and heart.
After rancorous local politics upend their game board, they both must learn to trust again or lose a second chance at love.
And now for the awesome SUPER SEXY EXCERPT!!!! 
By reading any further, you are stating that you are at least 18 years of age. If you are under the age of 18, please exit this site.
An Excerpt From: NEXT MOVE
Copyright © SABRINA GARIE, 2013
All Rights Reserved, Ellora's Cave Publishing, Inc.
"Unlike everyone else in this town, I'm not afraid of you, babe." He moved over her, purposely looking down at her, channeling all his control through his eyes—a stance that usually had opponents quaking in their boots. Not her.

"Intimidation? It's not working…darlin'."

Grasping her upper arms, he pulled her against him so the hardness of his erection stroked across her mons until she shuddered against him. "It's working just fine, darlin'. Stop pushing me away. You want this every damn bit as much as I do."

"That was a fluke, a momentary weakness. I don't do relationships." Her face, smooth and hard as marble, denied any emotions.

Oh she's good, but not good enough. "That ice-queen act may scare off the men around here but I know the hellion underneath. And I like her, claws and all." One hand lifted her face toward him. The red wine on her breath mingled with her rose-lime scent as he licked her lower lip. "I know how to touch you, babe, to make you beg for it and you know I can make you scream. Play power games with me, you'll lose. I don't let up, ever."

"Neither do I," Jocelyn spat, a glint of darkness clouding her eyes the only hint that she was struggling to keep her will in check.

Tightening his hold, fingers furrowed into the soft flesh of her biceps to keep her close. "I've already outmaneuvered you tonight."

"Overconfident so early in the game? Bad move. I lost a round, not the match." She glared at him, those brown-black eyes had liquid silver shooting through his veins. He wanted to be pounding the hell out of her on the desk in the corner.

"God, you make me so hot." He nibbled her chin and cupped her ass to him to let her feel the strength of his hunger.

"Changing battle tactics? Not working." Her hands on his chest, she pushed back.

"Sure it is. You're as ramped up as I am." His hand snaked up under her jacket, his thumb flicked at the bullet-hard nipple. "Right now you're imagining how you want me to take you. I like the desk, but maybe you'd prefer it against the wall? Hard and wild, just like you like it." Desire widened her eyes.

"I don't do relationships," she whispered, pain crackled in her voice as she struggled to suppress a moan from escaping.

"So you keep selling, but I'm not buying." He found his advantage and he pushed it. "Mark my words. I'm going to fuck you again, here in this office. It'll be so damn good my name will be echoing through these hallways, you'll be screaming it so loud. And then I'll make love to you, kiss and stroke until you're purring in my arms and begging for more."

Distance, she needed distance. Liquid heat drenched her silk panties, she flamed so hot. Jared in full alpha was a sight to behold. The sandalwood scent tickled her nose, drumming up memories of that mouth licking her to bliss, those talented fingers… Damn.

"No, Jared. It's not going to happen."

"Yes, it is." The steel in his voice was unmistakable. "I'm going to win, Jocelyn, because you want me to. I can smell the lust in your pores." Warm breath on her neck fanned the flame engulfing her spine, traveling at breakneck speed to her womb.

Somehow she ripped free of his touch, those fingers still stroking her breast. It took every ounce of her control to not pull him in the corner and strip him bare. She had to get away. Instead of pissing him off and sending him packing with her gambit, she got more Jared. Time to regroup and figure out next steps, this was not over yet. Not by a long shot.

"Don't bet on it. We're done here." Her voice cracked, but she pulled it together to strut out of the office to the elevator and didn't look back. Jared could find his own way out.
A Romantica® contemporary erotic romance from Ellora's Cave
Buy Links
Amazon                       http://www.amazon.com/Next-Move-ebook/dp/B00DSOY4RA/ref=sr_1_1?ie=UTF8&qid=1373069676&sr=8-1&keywords=Sabrina+Garie+Next+Move
Ellora's Cave               http://www.ellorascave.com/next-move.html
Barnes and Noble       http://www.barnesandnoble.com/w/next-move-sabrina-garie/1116110458?ean=9781419946301
All Romance Books     https://www.allromanceebooks.com/product-nextmove-1228443-340.html
Sony                            https://ebookstore.sony.com/ebook/sabrina-garie/next-move/_/R-400000000000001084027
Other
Good Reads                 http://www.goodreads.com/book/show/18183385-next-move