Their Second Chance ~ Release Day Sale & Giveaway ***WINNERS ANNOUNCED***
Hello you awesome readers!!

My new book is out today and I'd like to celebrate by having a release day sale.

ONLY 99 CENTS

!!!! (For a limited time) And to add more fun we'll have a giveaway!

SORRY FOR THE DELAY IN POSTING WINNERS! I was away.

CONGRATS:

Prize #1 Nikki

Prize #2 Theresa Esterline

Prize #3 Shannon Davison

I will email you directly requesting your addresses for mailing.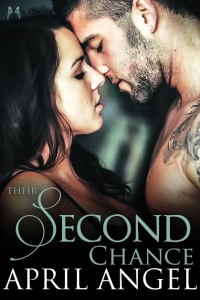 Sometimes love is the easy part…
After five years with a man she loved, Ariana Parker held divorce papers in hand. From the moment she met him, Nick was the only man to make her body burn and fill her heart with joy, but somewhere along the way, they lost their ability to communicate—in any language. 
Nick Parker lost the woman he loved to the trials of conception. Their inability to cope with their failure broke down their relationship and their friendship. And now, he's left with a woman he lusts after, longs for, and doesn't know how to reach. 
One locked door and plenty of time to hash out their problems will either leave them broken forever or might just be the glue that holds them together. 
So that's new April Angel book. It's different. Don't think I left out the sexy, but it's a lot more emotional and I like it. And now for the AWESOME giveaway!!!
To celebrate my new release, I'm giving away swag.
***ALL PRIZES ARE INTERNATIONAL ELIGIBLE***
Prize #1 – Stone Soup – Their Second Chance Pendant

Prize #2 – Nerd Accessories – Keychain

Prize #3 –  April Angel Smut Pack

I know…I know you're wondering who you have to throw into oncoming traffic to win one of these right? Nobody LOL.
BUT I do need you to do me a huge favor and share/pimp my buy links for Their Second Chance. 
Add TSC to your GR library/ recommend it to some friends

Tweet (and mention me so I can know @millytaiden)

Facebook (tag me millytaidenpage)

G+
Comment with links and

Pimp Pimp Pimp
That is the name of this giveaway!!! 

PIMP Their Second Chance

!  And come back. Comment with your LINKS and tell me what you did.
Each share is one entry!
3 – winners will be chosen on 2/28…
The day Their Unexpected Chance Party is held. Did you RSVP? Join it now and CLICK HERE!