Dangerous Protector Release Day and Giveaway ***WINNERS POSTED***
Welcome to the Dangerous Protector Release Day Giveaway!
Dangerous Protector is Book 2 in the Federal Paranormal Unit. (Pssst! If you haven't read Wolf Protector, grab it now for only 99 cents! Enjoy a #1 bestselling paranormal erotic suspense!)
 
 WINNERS!!! (SORRY FOR THE DELAY)
NICOLE
THERESA ESTERLINE
BARB KISER
ON SALE NOW!
Amazon: http://amzn.to/1rDaP66
B&N: http://bit.ly/1nEPlbr
ARe: http://bit.ly/PQpCxY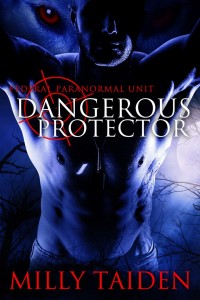 Dangerous Protector
 Federal Paranormal Unit 2
If you run from love, you're asking for a chase…
James Brock lived the past ten years without the woman he loves. Using his job as head of the Federal Paranormal Unit to help others, he's done a good job of ignoring his lack of a personal life until she returns. His salvation. His first love.
Cynthia Vega had a very good reason to leave the only man she loved after she'd accepted his marriage proposal. Now she's back as his boss. And he's not willing to ignore their chemistry or the past.
Brock is determined to claim his mate and prove that their passion is even hotter than before. He wants her and her explanation behind their separation. Except, some secrets won't stay buried in the past. Brock will fight his demons to follow her lead, but Cynthia's reluctance to explain their lost love may be the one key to their destruction…
Add Dangerous Protector to your GR TBR Pile!
Excerpt
Dangerous Protector
© Milly Taiden, Latin Goddess Press 2014
An explosion rocked the ground. He jerked his gaze to the house. Flames consumed the structure. Screams and shouts filled the night. Men moved in all directions toward the house, but gunfire blasted through the shouts. Brock's muscles tightened.
"Can we do anything?" Donovan yelled over the sirens and shouts. She ran a hand over her mussed up ponytail. Her fingers shook. He saw the desperate need to help in her eyes. It went against her nature not to.
Brock shook his head. "We wait."
The thought of doing nothing didn't appeal to him either. In fact, it was hell to hold back and not run into the house and get the kid himself. His power shoved outward. Pushing to get out. To take control.
"Finally!" Galvez sighed.
Brock's vision followed Galvez's line of sight until he saw a woman running out through the flames with a bundle covered in a dripping blanket.
Breaths thundered in his ears. Everything narrowed until the only thing he saw was her. He couldn't believe his eyes. Was his mind playing a trick on him? After all these years? But no, it wasn't a trick. She was soaking wet as she ran from the burning house toward them. Paramedics surrounded her and took the covered bundle from her arms. She was gasping for air, coughing through the smoke she'd inhaled before she finally glanced up and met his gaze.
He didn't know how long he'd been standing there, watching everything like a spectator versus an active participant. The beast inside him roared. After all the years they'd been apart, after she'd left him for no apparent reason, she was back. He watched her march toward him. Her dark gaze slid from him to Galvez.
In the background, firemen fought the burning house. Sirens continued to blare. Loud. Driving the point that chaos had ensued around them. But he couldn't find it in him to care. His sole focus was on the woman he'd loved. Hard. The woman who'd left him.
Cynthia Vega.

***
BUY IT NOW!
Amazon: http://amzn.to/1rDaP66
B&N: http://bit.ly/1nEPlbr
ARe: http://bit.ly/PQpCxY
GIVEAWAY!
Prize #1

A Milly Taiden Messenger Bag!

 
Prize #2

Stone Soup Designs Handmade Gold DP Key Pendant
Prize #3

 
I know…I know you're wondering who you have to throw into oncomi
ng traffic to win one of these right? Nobody LOL.
BUT I do need you to do me a huge favor and share/pimp my buy links for Dangerous Protector.
Add DP to your GR library/ recommend it to some friends

Tweet (and mention me so I can know @millytaiden)

Facebook (tag me millytaidenpage)

 

And G+
Comment with links and

Pimp Pimp Pimp
That is the name of this giveaway!!!

PIMP Dangerous Protector

! And come back. Comment with your LINKS and tell me what you did.
Each share is one entry!
3 – winners will be chosen on 5/16…
The day Dangerous Protector Party is held. Did you RSVP? Join it now and CLICK HERE!
SIGN UP FOR MY NEWSLETTER FOR A CHANCE TO WIN A $50 GC EVERY MONTH!
here:

http://mad.ly/signups/87477/join