I get a new "look", you get a prize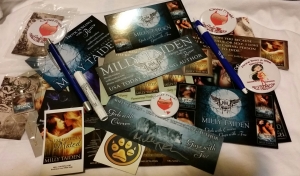 Happy Friday all!! We've made it through another work week.  I can't believe it's almost mid-November.  Thanksgiving will be here before we know it!  Did you notice some new digs around the website/blog? I got an update. I really like it and hope you all do as well. To celebrate the new look, I'm doing a flash giveaway.  All you need to do is leave a comment telling me what you will be reading this weekend.  Winner will get a swag pack (similar to the one featured in the picture) and a $5 gift card to either Amazon or Barnes & Noble–winner's choice.
Contest runs through Sunday, 11/9/14 at 8:00p. Eastern. Winner will be chosen at random and announced here on the blog next week. So, make sure you check back to see if you've won!
Good luck and happy reading!
~Milly