Guest author: Jessica Coulter Smith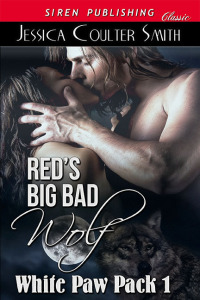 Please welcome Jessica Coulter Smith to the blog today.  She's given us a fun little excerpt from Red's Big Bad Wolf, which released earlier this month and is the first in her White Paw Pack series.
Excerpt
Red blew her hair out of her face and surreptitiously glanced around the room. No, it hadn't been her imagination. There were no less than three wolves lounging around the library. She'd noticed them when she'd exited her apartment that morning, had noticed them following her, and now they were here. And wouldn't leave. She had a mind to go up and demand to know what was going on, but something told her Ace was behind it. Was this in response to last night's events? She'd taken care of herself most of her life. She didn't need his help all of a sudden.
She jerked the phone off the cradle and was about to dial his number when she realized she didn't have it. Slamming the phone back down, she grumbled under her breath. It wasn't that the wolves were bothering her, they were just…there. Red wasn't used to having people follow her around. Having jumped from one foster home to another, she'd never relied on anyone but herself, and she wasn't about to change that now. Not even for the alpha.
Red snatched a book off the stack on the edge of her desk and scanned the new barcode before entering in the metadata for the new addition to the library. It wasn't something she was supposed to be doing since she didn't have her degree, but the head librarian trusted her. If there was one thing Red was good with, it was data. Cold hard facts made sense to her. The feelings swarming through her every time she thought of Ace didn't. How could she want someone yet feel the need to keep them at arm's length?
Finished with the book, she slammed it down on the other side of her desk and reached for another volume. There were thirty new titles to enter, some of them having multiple copies. Ms. Wilburn only ordered books once every two or three months, so when she did place an order, it was usually a large one. The small library just didn't have the finances to add to the collection every time a new book hit the market. They relied on fundraisers like bake sales, used book sales, and the fees for using the private rooms to buy their materials. As the only library within twenty miles, you'd think they'd have better resources, but the town was more worried about their high school sports teams than the town's education. Figured. Jocks always won.
"Something wrong?" Ennis asked, as Red slammed another book down.
She glared up at him. "Why are your buddies and you hanging out in here today? You never come to the library."
"Maybe we wanted to expand our horizons," he said with a smile.
Red snorted.
Dalton walked up and stared at her. "Is there a problem?"
"Yeah, your pack mates and you are following me around like lost puppies."
Dalton shrugged. "Alpha's orders. You're to have a security detail at all times."
"Oh, for the love of…" She blew out a breath. "Get Ace on the phone. I want to talk to him right now."
Ennis handed her his phone. "He's on speed dial. Number one."
She accepted the phone, pressed the number, and waited. It rang several times before a groggy-sounding alpha answered the phone.
"What the hell do you mean, assigning me a security detail?" she demanded.
"After what happened last night, can you honestly ask me that?"
"Ace, those three have bothered me for most of my life. Why are you suddenly interested?"
He growled. "It's not sudden. The entire pack had orders to protect you. Those three are being punished. Severely. You'll never have another problem out of them."
"Then the matter is solved. Call off the watchdogs."
Dalton glared at her, obviously not liking the comparison to a dog.
Red sighed, her anger leaving as quickly as it had come. "It's not that I don't appreciate what you're doing, Ace, but it isn't necessary. I'm a big girl and can take care of myself."
"What would you have done last night, Red? If I hadn't been there to stop them…" She heard him huff out a breath. "I don't even want to think about what they'd planned to do to you. Suffice it to say: as long as you're single and unprotected, you're going to have a few wolves hanging around to make sure you're taken care of."
Her temper flared hot again. "I don't need babysitters. Just because I don't shapeshift into something doesn't mean I can't handle myself. Human's can be quite resourceful, you know."
"This isn't negotiable. What time do you get off work?"
She glanced at the clock on the wall. "In about three hours."
"I'll pick you up."
"Fine. But this discussion isn't finished."
"Yes, it is."
Before she could utter another word, he hung up on her.
About Red's Big Bad Wolf
Red Maybury has lived her life plagued with nightmares of something so horrific she isn't sure she'll ever get over it. Trust doesn't easy come to her, especially where men are concerned, but when she discovers she's the alpha's destined mate, she becomes determined to overcome her fears.

Ace Silver has known for seven years that Red is his mate, but he's a hard, domineering man and he isn't sure she can handle him. When her well-being is threatened by three of his wolves, he realizes the only way to protect her is to claim her.

Giving herself to Ace, Red learns that in order to control her fears she must submit to him, but will it be enough? Can she face her past in order to have a future with the man she is quickly falling in love with? Or will old demons drag her down, dooming any chance they may have at happiness?
Genre: Contemporary, Paranormal, Vampires/Werewolves
Release Date: December 9, 2014
Publisher: Siren-Bookstrand
About Jessica Coulter Smith
Jessica lives in a world where warlocks, shapeshifters and fairies exist, and everyone deserves a happy ending—from tragic vampires finally finding love after centuries of being alone, to super hunky womanizing werewolves finding their destined mate—it's all in a day's work.
Unable to find a werewolf of her very own, she decided to marry someone who thinks he's one—minus the howling at the full moon, fleas, and a rousing game of chase-the-mailman. Okay, so he sometimes howls at the full moon.
When she isn't writing, Jessica enjoys spending time with her family, reading (mostly romance), or going to the beach. She's especially fond of bookstores and Starbucks!
Connect with Jessica: