The Novel Experience Event Recap… Here we go!
(Hint: Click on the photos to enlarge the view).
This was a fantastic event.
First I want to say thank you to Stella Price (author extraordinaire and event planner like no other out there) and her staff at Romance Ink who did their very best to make sure everyone had a fabulous time.
Next I want to thank author Julie Morgan (author of a sexy new military series you want to check out called Delta Force) for allowing me to ride up to Atlanta with her. She got to spend 8 hours listening to me tell her every hour or so that I had to pee. Much fun to be had.
Because we arrived early, we got to hang out with some awesome people like Bianca Sommerland and Mychal Daniels. Both of these ladies have such a wonderful personality you definitely need to stalk them if you aren't already.
Next we kicked off the event with a delicious pizza party hosted by yours truly. That was a very fun way for everyone to break the ice :).
After that there were panels and outings galore. One of my favorite outings was to a cake place and I apologize I don't have the name of it at this second BUT I will include it in the blog version of this. I had an ORGASMIC, yes you heard right, piece of 3 leches cake. Holy moly that was some good cake!
I went into the Unusual seductions party and they all claimed my boobs!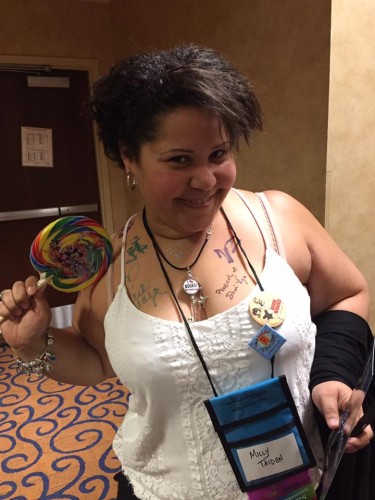 After that, the crazy just went on and on!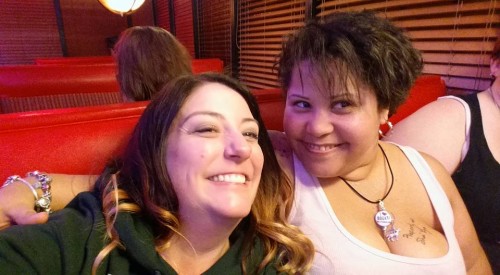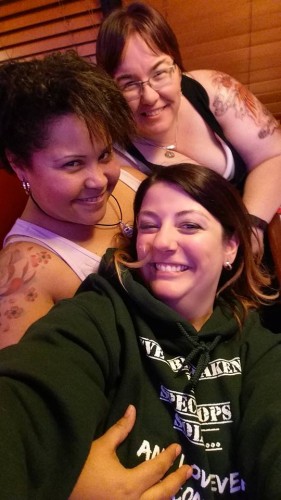 There was a Speakeasy and I got to dress us as a 1920s Hoochie Mama surrounded by gangsters :D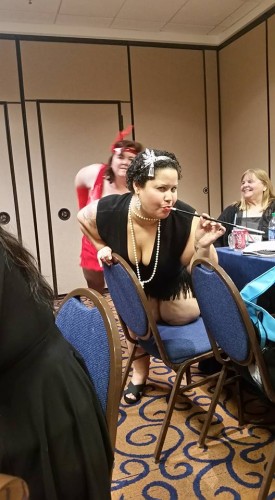 I was so happy to see SO many people dress up for the Villains Ball I hosted as Magneto along with Julie Morgan as Loki. Let me just tell you it was freaking awesome! The costumes, the food, the fun. Unforgettable.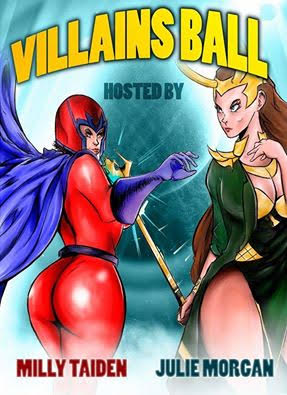 I want to give a special thank you to Author Mychal Daniels (if you haven't read her, please grab one of her sexy aliens) and her sister Iyna for coming to my rescue a few times and for just being wonderful people!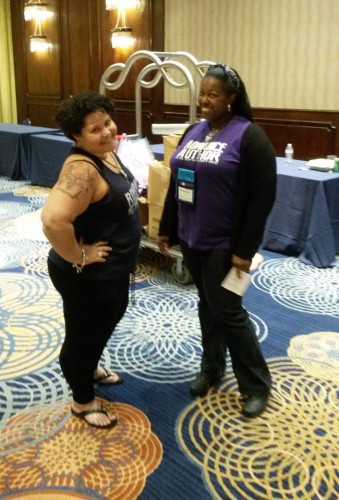 My absolute favorite costume of the night was Bianca Sommerland (who writes super hot menages that will make your ereaders melt so get your little hands on them and check her out). She had this awesomely elaborate costume and I was in love with it from the moment she walked in. Bianca got my vote for best costume.
The book signing was fantastic. I had so much fun. Sold lots of books, hung out with super authors and got the help of great readers. P.S. That is ginger ale in my glass!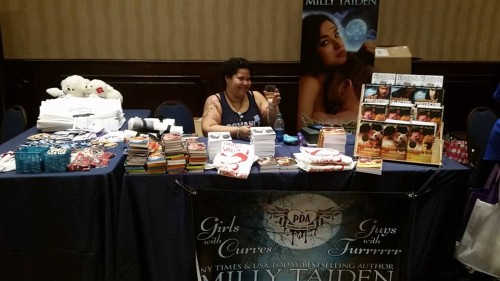 And this pretty much sums up the con for all of us here…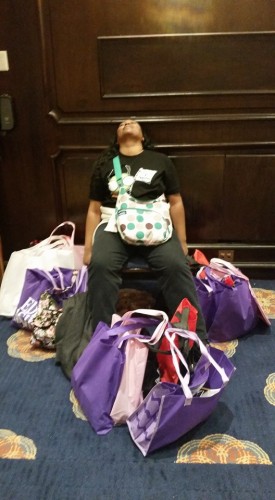 So to end I'd like to say thank you to the following readers: Heather Ray, Jennifer Wedmore and Nikki McCarver for the help throughout the con.
Now I'd like to say thank you to the following authors for spending time with me and making this con so fun and readers please go check them all out! They are amazing authors! Stella Price, Mychal Daniels, Sheri Lyn, Julie Morgan, Cassidy O'Connor, Bianca Sommerland, Gracen Miller, Lia Davis, Tilly Green, Marianne Morea and so many others. Thank you all for being fabulous!
I will see you all at Authors After Dark in Savannah in August.