Your favorite Greek Bad Boys are back in Favored by Death!
Thank you for taking a chance on these Greek Bad Boys!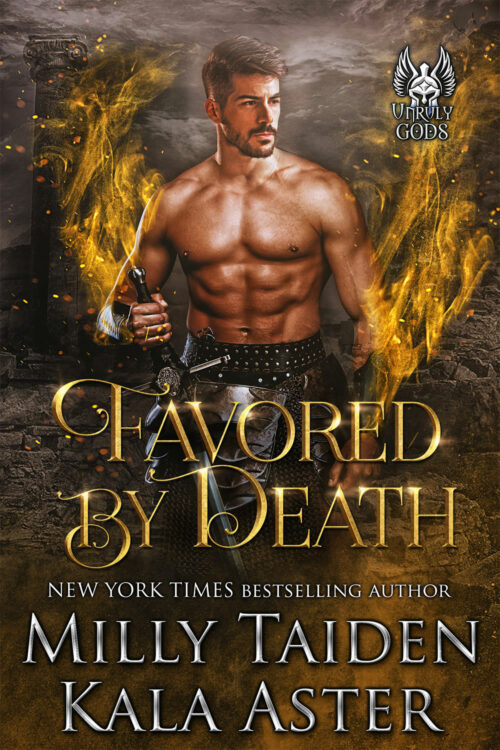 Favored by Death
Unruly Gods, Book 3

Kindle: US | CAN | UK | AUS
FREE with Kindle Unlimited
Favored by Death is also available in print.
The Unruly Gods series must be read in order. The story arc began in book 1, Marked by War, and continued in book 2, Chosen by the Devil. The resolution will happen in Favored by Death.
Moros, the God of Doom and Fate, tagged along with his friends out of boredom, and stupidly revealed that it doesn't matter to him if Chronos unleashes chaos on Earth. Maybe he lost his mind after witnessing Sophia's beauty, after all, she's making him question going back to Olympus at all. He'd rather stay on earth with her, but he's pretty sure she's going to argue that. A lot.
His self-centeredness is precisely what Sophia, the leader of the Fates, despises. So what if he's good looking and makes her hormones go crazy? She doesn't trust any of the gods, knowing they'd turn against human — Fates included — in an instant. And, with her sister Fates having fallen for gods, Sophia is the last one keeping vigilant against the outlaws. She's definitely not going to fall for Moros and his sexy ways.
Moros and Sophia will have to place their differences aside to survive because Chronos wants to kill the Fates and reabsorb their powers, and Zeus is still out to punish the gods who broke his rules. If they fail, the gates will open, and the world as they know it will end when the Olympians become free to wreak havoc on the human world. If that happens, any chance at happiness will be lost.