Welcome to Hellscape Holidays Resort — Matches Made by the 😈!
The Devil and his BFF have made a bet to help the visitors of Hellscape Holidays find true love, or at least help them get laid. It's only fair since they're all in hell anyway. So why not figure out how to fix these folks up. These people are too stressed out and the Devil thinks only getting them doing the horizontal polka will get them to chill out. Time to get his BFF and get to scheming…erm, that is, matching.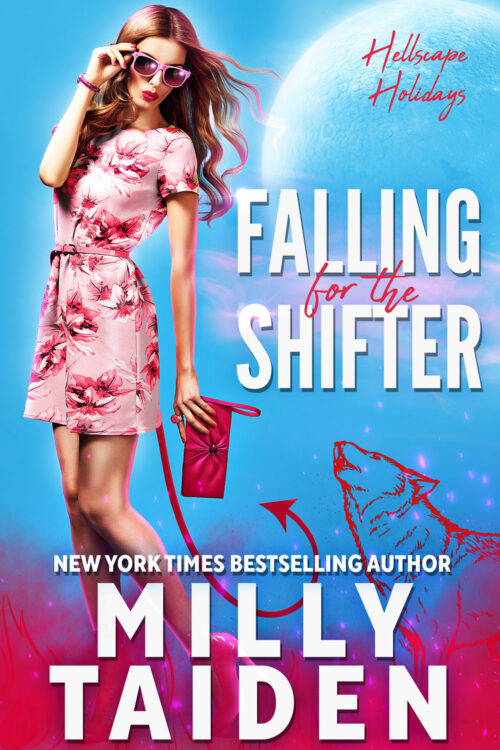 Falling for the Shifter is now available!
Hellscape Holidays, Book 1

Kindle: US | CAN | UK | AUS
This book is included in your Kindle Unlimited subscription.
Ethan Adair might be an alpha wolf shifter, but he's got zero experience with the paranormal world. Snack-obsessed imps? Fluttering pixies? It's all new to him. He is a wolf out of the forest and way out of his depth. All he needs from Hellscape Holiday Resort is the magic to break a curse. What he didn't expect was falling in love with one of Hell's creatures.
Ruby Flemming is a succubus — and not a particularly good one. Damning souls to Hell for all eternity is no fun. She needs a vacation to mope on the beach with an endless supply of drinks and books. She didn't plan on helping a wolf shifter desperate to save his pack, but sticking by his side may be the best decision of her life.
Falling for a succubus was not in Ethan's plans. Now that he's found his mate, he's not letting Ruby go. But if the Devil has anything to do with it, these two are about to experience a lot more than just falling in love. When you're in the devil's playground, anything can happen!