Wanted: A NANNY FOR THE WOLF DADDY 🐺
"I do so enjoy the creative mind of Milly Taiden! Her Shifter Daddies series has been a exceptional journey into the land of shifters and book two continues to do so. We meet Nox who is all alpha and a sweetheart. Kelli enters his life and bam . . . fated mates. I loved the mystery of Nox's brother and wife's disappearance and how strong Kelli was when time came to help rescue them. Enjoyable read❤️❤️" —Nancy R, a GoodReads reviewer
"It is hard to put down this book. Our MMC (= main male character) might be a bit arrogant, it's just the way he is, but he has redeeming qualities that makes him lovable in his own way. First and foremost is his love and patience with his niece and second is his fierce love for his mate." —Trixie, a GoodReads reviewer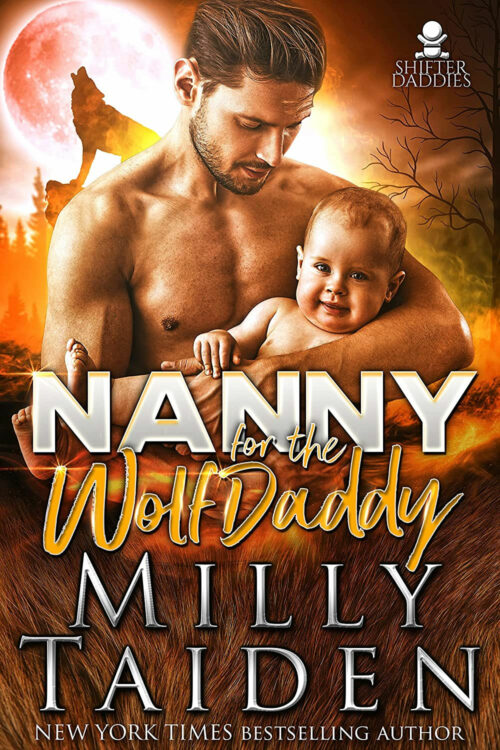 Nanny for the Wolf Daddy is now available!
Shifter Needs a Nanny, Book 2

Kindle: US | CAN | UK | AUS
This book is included in the Kindle Unlimited subscription.
When wolf alpha Nox Thryen's brother and sister-in-law go missing, their toddler becomes his responsibility. What does a bachelor know about dirty diapers, snotty noses, and baby puke? He's in deep doo-doo and totally clueless. He needs help. And when his eyes land on his new nanny, he knows one thing for sure, she's his.
After years of hard work, Kelli Wells now owns her own child-care agency. Receiving a desperate call from a non-client for help, she takes pity on him and agrees to assist until a proper replacement can be found. When he opens his front door, his gorgeous eyes make her think a substitute could wait—like forever.
As his new nanny sweeps in and takes control of the situation, he realizes she's more than just his mate. She's beautiful, smart, and has a loving heart. So when she endangers herself to help him find the toddler's parents, he's frantic to save all of them now. If he can't rescue his mate and his family from a psychotic slave driver, Nox and the little girl will find themselves both orphaned without the ones they love the most.