Magic Touch Giveaway Hop ***WINNERS***
 WINNERS ARE:
Melissa Robles #1
Heather Coulter #2
Shadow Kohler #3
Please email me at millytaidenauthor@gmail.com for your prizes!
Hello you awesome readers!
Welcome to my stop on the magic touch giveaway hop and swag bonanza!!! Yay!!! (I know I'm an exclamation point lover LOL)
I have awesome goodies for you today!
Ah. The magic touch. Those sexy men that can touch you with their words, their eyes and their personalities. That's the magic touch I want to focus on today. I love a sexy man that can drive me absolutely crazy with just the timbre of his voice. That is more than just magic.

Example is this bit from my current release, Wolf Protector (a paranormal erotic romance)

Erica peeked at Buchanan's smiling profile from behind her sunglasses. All dressed in black, he looked like a super hot Navy Seal. The T-shirt did nothing to cover the bulging muscles that rippled whenever he gripped the wheel. His short, spiky hair and five o'clock shadow made him look oh-so fine. And the reflective sunglasses added to his sexy, bad-boy allure. Goddamn it, she needed to get laid! Pronto, or she'd start seeing Buchanan as more than a Casanova and more like a possible candidate to end her sexual hiatus.

I love it! sigh. Here's another bit that makes me smile.

Erica sighed into the kiss and allowed her lips to soften under Trent's slow invasion. Sparks bubbled in her blood and fired her veins with each swipe of his tongue. He drew slow circles over her lips before moving into her mouth. Tingles coursed through her body, going straight to her core. Their tongues caressed each other in a sensual ritual that left her breathless and panting.

His hands moved under her top, tracing the curve of her waist and crawling up her sides. Urgency for him, the only man she'd been wanting for years, made her pull at his T-shirt. Her hands gripped the cotton material and lifted. He must've gotten the hint, because his hands left her body and he stripped off the shirt. And good lord was she happy to see him without the offensive cloth. She knew he was hot, like really fucking hot, but seeing all those muscles up close and personal made her want to purr.
Wolf Protector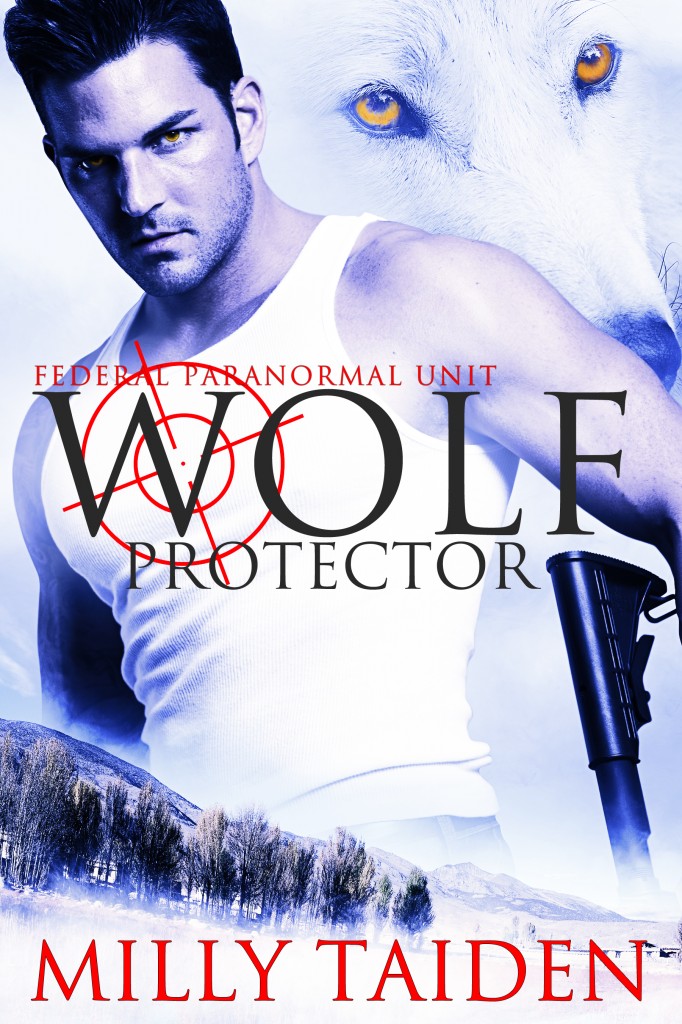 A woman with a secret…
The Federal Paranormal Unit is an elite squad of supernaturals dedicated to solving missing persons cases. Erica's gift allows her a special connection with the crime, but it comes at a deep personal cost… Until now, she's kept her gift a secret, even from the other members of the team. But this case will throw her together with Agent Trent Buchanan. He's the object of her secret desires, but he's also a cocky womanizer. She'd rather swim in shark-infested waters with a paper cut than admit she has feelings for him.
A man with one desire…
Wolf Shifter Trent wants Erica more than he's ever wanted any woman. He's spent years patiently waiting for her to admit that she wants him too. Working one-on-one in a race to find a serial killer, Trent's patience and Erica's resolve wear thin. When Trent discovers the truth about Erica, will he accept her for who she is? And can he protect her from the horrors that her gift brings?
A case that pushes them to the edge…
Erica will have to risk it all if she wants to stop the killer, and when she does, Trent may have to put his own life on the line to make sure his mate is protected…
Now that you've gotten a taste of my sexiness that is wolf Protector. Let's talk

giveaway

!
You're here for sexiness and swag. So I am giving away 2 very pretty swag items..
3 Winners will get…
Winner #1

A  handmade Swagmaster bookmark of Wolf Protector

Winner #2

A Cassie Creations Keychain of Wolf Protector

Winner #3
This Hop is hosted by author

Kallysten

and book blog

Riverina Romantics

. In

addition to individual prizes provided on each blog, we are offering
assorted swag to the first 100 participants who simply tell us they want
some! See all details and sign up

here

.
Keep hopping and visit the next stop on the hop!