Halloween Seduction Giveaway Hop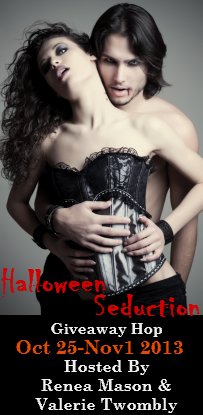 Hello! Welcome to my stop in the Halloween Seduction Giveaway Hop!!! And Giveaway we will! :D Prepare yourselves for fun, prizes, and sexiness of all kinds.

Let's talk some fun sexy reads for Halloween! This is the holiday that belongs to us Paranormal authors. It's filled with vampires, shifters, demons, ghosts, witches and the sexier you can make them? THE BETTER. Who doesn't want to cozy up to a sexy story on Halloween to get the blood pumping and ready for a night of lots of lovin'

Speaking of sexy…Do you love sexy Halloween reads? And do you like a sale? I have a brand new super sexy Halloween Anthology out that is ON SALE for only $0.99 Thru 10/31. Be sure to grab a copy and check out the sexiness that you get below.
Naughty Tricks & Sinful Treats
Five sexy shorts to make your Halloween sizzle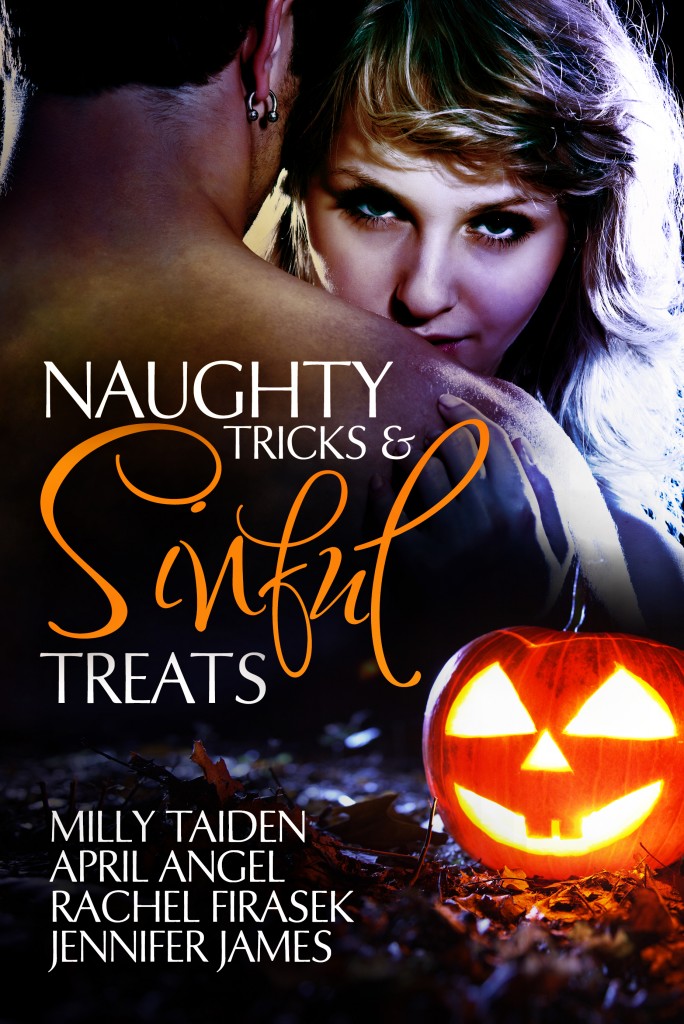 Bitten by Night – Milly Taiden
When a wolf hunts for his mate, he'll lay claim and take her for life. But Royce Night never thought Kiara Cruz would be both his biggest chase and the sexiest woman he'd ever had. She's in heat and he's on the prowl. And he definitely didn't think he'd tangle with a tigress for a dance at an alpha love. 
 Pranks & Spanks – Rachel Firasek
No devil should be without his dark angel. Graham Taiden had great plans to torture, Allison McAnders, all through the night, but his sweet sub had a different plan of action. She's tired of their on-again off-again relationship and ready to lead him to the next level or call a halt to their role playing. Together, through the language of lovers, they'll reach a truce or risk losing the battle between heaven and hell.
His Naughty Succubus – Jennifer James
Ghost hunter Liam MacDonnell has decided to do a special Halloween investigation on an infamous haunted house. He's hard up for some action of the ghostly kind, and is looking for a sure thing. Lucky for him, cursed succubus Trinity Bell is waiting for him, and has a special assignment only he can bring to completion. 
Seduced by Day – April Angel
It takes two to tango, but three's never a crowd. When twin brothers, Bryan and Brent Day set their sights on Stephanie Almonte, their partner's secretary, they won't be deterred from the task of capturing her heart. With a wicked sense of curiosity, and kill-me bits of a dress, Stephanie explores the haunted mansion that sets the tone for their corporate Halloween party. She's in for the shock of her life when she finds out that the men she's panted after for months have arranged for a sweet seduction to claim her body and her future.
Her Wicked Bassist – Jennifer James
The bad news: This Halloween, Holly Darling's sorority is having their annual fundraiser in a haunted house, and she's freakin' terrified.
The good news: Hot bassist Zander Phillips is performing with his band Wicked Lovely, and he's got her back, front, and every other body part in between covered.
ONLY $0.99 FOR A LIMITED TIME!!!!
Available at:
Amazon – http://amzn.to/17a6zHp ~ B&N – http://bit.ly/17CoY9T ~ ARe – http://bit.ly/19WgooE
Now for my prizes because I so adore new readers! AND Halloween. I'm in a giving mood.

Tell me what you like about Halloween for a chance at the following prizes…

Be sure to use the Rafflecopter to unlock extra entries AND leave your email in case you win!
2 WINNERS –  A $5 Amazon GC Each
Here's the GRAND PRIZE Rafflecopter so be sure to enter!