Burning Bright kicks off the Nip and Paw series!
"I never read book a by Ms. Taiden I didn't like. This new series is no exception. A new town and new characters. Thatcherton is bound to bring us some amazing stories. Egon has his hands full as not only the sheriff, but also Alpha of his streak. Unexpectedly, he meets his mate. She comes with a bit of baggage and could use his protection. Bree is just trying to stay out of the public eye. Romance was not on her list of things to do. These two however, have a chemistry that cannot be denied. A bit of mystery, a lot of romance and some amazing secondary characters. Great read!" — Tara Heilman, an Amazon.com reviewer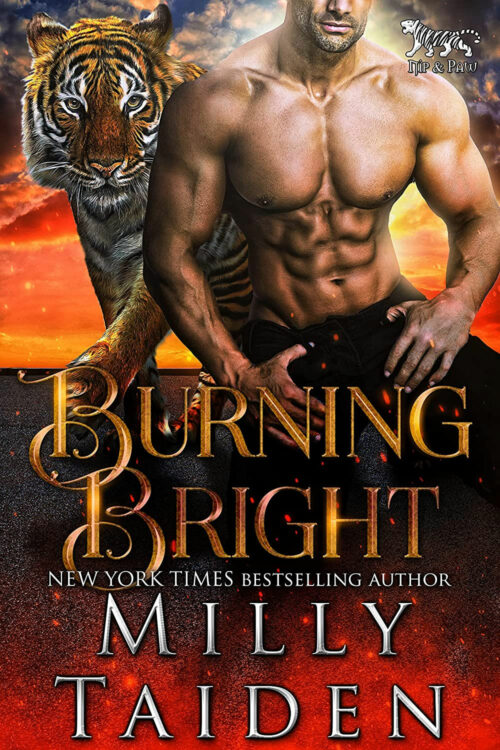 Burning Bright is now available!
Nip and Paw, Book 1

Egon Thatcher isn't just the Sheriff of Thatcherton. He is also the alpha tiger. It's a big responsibility, especially during the tourist season. With summer starting, he has one goal: make sure the mountain's visitors have a good time to fund the town's survival. All that is forgotten when he finds his mate lost in the forest. Having a trouble-free summer is soon the least of his problems. Finding out his mate is a sassy beauty just adds to the distraction.
Bree Elsher is having one hell of a bad week. She learned — on live television while delivering the evening news—her ex-boyfriend is a murderer. Everyone thinks she might have been his accomplice. So she hides out on a secluded mountain away from everyone. But when she is rescued from a tiger attack by Sheriff Egon Thatcher, everything changes. He makes her emotions crazy and her hormones go up in flames.
The threat of her past is dragged through the forested mountain. Bree is in danger while her entire life comes crumbling down. Egon wants to keep her safe, but there is so much more at stake than his streak of tigers and his mate.
Bad things have come to Thatcherton, and the fated mates might not get a chance to explore their bond. Not if the killer has anything to say about it…