A Smoking Hot Menage featuring two wolves and a lioness. RAWR!!!
5 Stars! "A fantastic read! Rayna was such a strong woman in this story which I absolutely loved! She was perfect for Pacer and Spike! These two guys were just amazing and so strong and sweet! Loved Rayna's family!" — Barb, a GoodReads review
5 Stars! "Rayna is a young lioness struggling to take care of her aging parents, younger siblings and the family farm. Pacer and Spike are the Alpha and Beta of their wolf pack in another state. The men need their mate to stabilize their pack and start a family. Who can bring them together but the matchmaker extraordinaire Gerri Wilder of course." — Michelle, a GoodReads review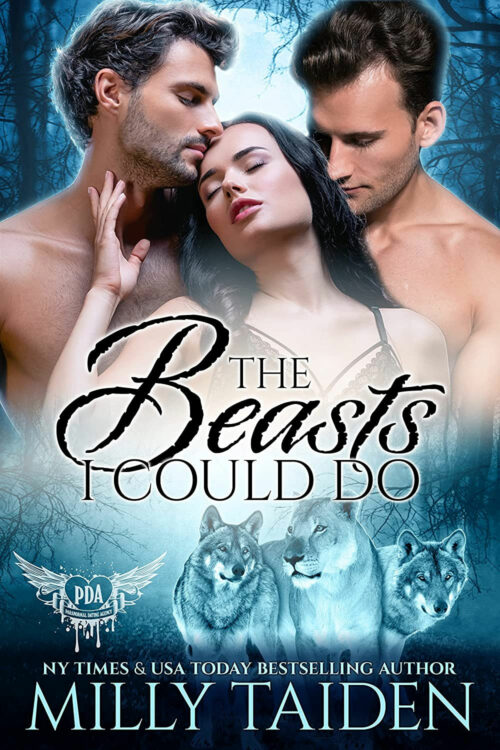 The Beasts I Could Do is now available!
Paranormal Dating Agency, Book 43

Kindle: US | CAN | UK | AUS
FREE with Kindle Unlimited
The Beasts I Could Do is also available in print.
Rayna Westlake works on her family farm while caring for her aging parents and younger siblings. She longs for romance and forever happiness. She never expected a chance discussion with Gerri Wilder would lead to meeting the two sexiest men of her life. The hunks have her body in flames.
Alpha wolf Pacer Collins and his Beta, Spike Renner, need their third to complete their Alpha Triad and bring peace to their wolf pack. Luckily, Gerri Wilder has agreed to help. Unfortunately, the lovely Rayna needs more than a little convincing. They'll have to romance her and show her exactly what they have to offer. But they're not willing to give up when her curves makes them thirsty to touch every inch of her.
Things are not as simple as just getting a lioness to take two wolves for mates. Even if she accepts, will their wolf pack accept a lioness in the alpha triad? Or will a pack war stop any chance they ever had of a happily ever after?