Can a simple human Earthling break a curse and save a tiger shifter with love?
"Geri and her matchmaking ability is at it again. As the head of his pride, Taariq must make take a mate, but he desires a fated mate match. His pride is barren of cubs […] because of a curse… a curse that can only be broken if he mates. The suspense gets to a peak when an evil plot is revealed but the slow burn romance is so romantic you just sigh." — Nancy R, a GoodReads review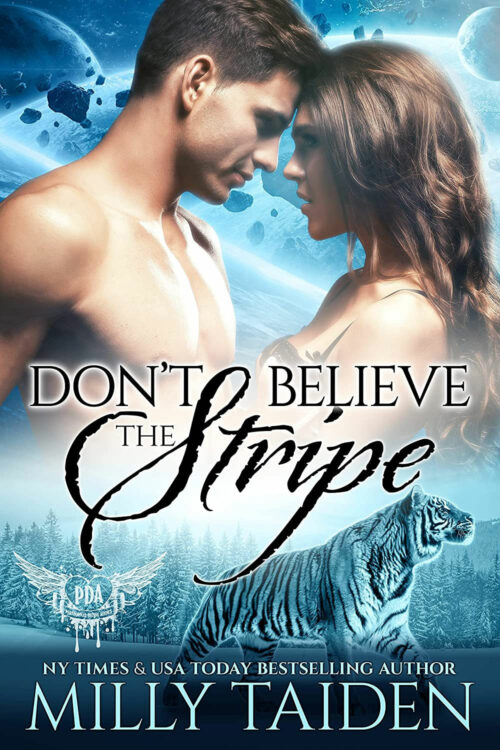 Don't Believe the Stripe is now available!
Paranormal Dating Agency, Book 44

Kindle: US | CAN | UK | AUS
FREE with Kindle Unlimited
Don't Believe the Stripe is also available in print.
Taariq Xanon, tiger shifter leader of Nova Aurora's Southern Mountain Streak, has a big problem. Rumors say that the Streak is cursed because their leader hasn't chosen a mate, and his people are starting to demand that he settle down. So when he meets his mate, he's sure everything's going to be fine. Right? Not so fast.
Sierra Rylee, friends with Nova Aurora's queen, Bella, has not seen her friend in years. So when she can't find the perfect anniversary gift for Bella, Gerri Wilder convinces Sierra to surprise her friend in person. And would it be so bad if Gerri can help her meet a nice guy in the process? Little does Sierra know that Gerri has big plans for her. Once she sees Taariq, she's willing to give an alien shifter a try.
The big sexy Taariq sweeps Sierra off her feet, but something else is afoot. Someone from Taariq's past isn't happy with Sierra's presence and is willing to stop at nothing to break the couple apart. Can these two figure out who's targeting Sierra before it's too late?