You are invited to one of Gerri Wilder's famous bachelor auctions!
"A shifter romance with just the right amount of danger and action. Rex is a tiger shifter and needs to let go of part of his past that haunts him. His little sister is about to help him with that and also have somefun tricking him. Gerri Wilder has another match to make and she is never wrong. Gianna is human and a reporter that is looking for her one big story. Her need to find the story will lead to both danger and romance." —Raina Collins, a GoodReads reviewer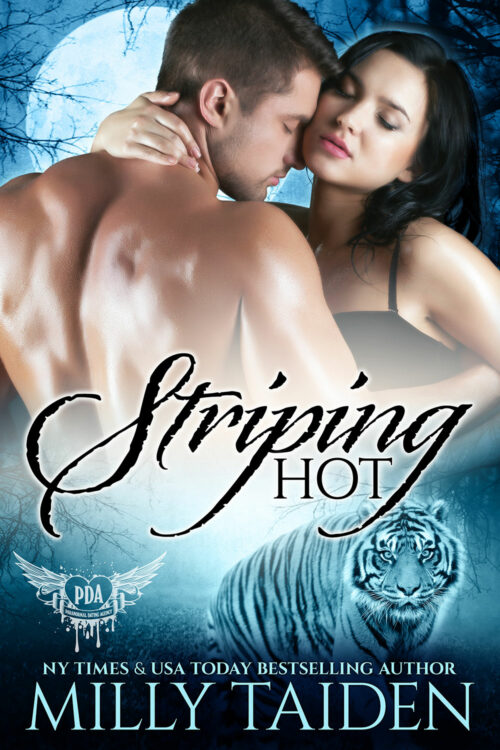 Striping Hot is now available!
Paranormal Dating Agency, Book 49

Kindle: US | CAN | UK | AUS
FREE with Kindle Unlimited
Striping Hot is also available in print.
A reporter and a tiger shifter are about to learn that you never know what will happen at one of Gerri Wilder's famous bachelor auctions!
Hard-nosed and clever reporter, Gianna Lee, has dreamed of finding the scoop of a lifetime. She just never knew that she'd stumble across it at the same time she catches the eye of a hunky billionaire tiger shifter.
Rex Titus is handsome, wealthy, single… and struggling with demons from his past. When Gerri Wilder surprises him with his mate, he's not sure he's ready for it. But one look at Gianna and he knows he'll never be the same. The reporter's luscious curves and dark silky hair call to him, and he won't stop until she's his.
But before these two can determine if there is a future for them, Gianna has to deal with the trouble she's stirred up. Some people don't want certain truths exposed, and are more than ready to take out the nosy reporter. Can Rex overcome a dangerous conspiracy in time to win his fated mate's heart?