✨🌙 Welcome back to Half Moon Key! 🌙✨
Welcome back to Half Moon Key!
Oh these bad boys are about to fall for the least expected sassy ladies. Hang on to your undies, folks. And grab your copy now: Book two, A Curl of His Tail, is now available from Amazon Kindle!
5 Stars! "A shifter romance that is beyond sweet. Half Moon Key is a very unique place. We definitely learn some more about it and it's very odd quirks. Jade was born and raised there and loves her hometown. She loves the people and all the quirks. When a new man moves into the small town and leaves everyone talking and gossiping. Parker is young but also retired. He will soon learn that the easy life isn't always easy for a man from the big city." — Raina, a GoodReads reviewer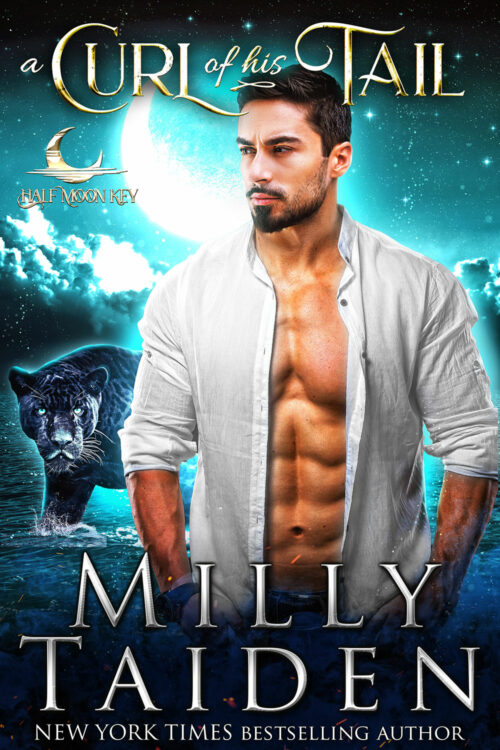 A Curl of His Tail is now available!
Half Moon Key, Book 2

Kindle: US | CAN | UK | AUS
This book is included in your Kindle Unlimited subscription.
Panther shifter, Parker Dawson, is retired. Sort of. He's barely in his thirties, but he needs a quiet life. Once he lays eyes on Jade Curran, Half Moon Key gets a whole lot more interesting. The small-town beauty has him at the palm of her hand and he's not even gonna fight it. 
Jade Curran didn't think she'd find love in the arms of the town's handsome newcomer. But her body has dictated it now wants him and there's little she can do. She can fight it, but when he shows her how caring, big, strong and badass he is, she's not sure she wants to.
When the Half Moon Key grid goes down, old habits die hard, and Parker insists on fixing the town's security flaws. Unfortunately, nothing can prepare Parker for the danger waiting just outside of town. Half Moon Key might be secluded, but trouble has found it…