💋 Kissing the Grumpy Dragon 💋 is now available!
Welcome back at the Hellscape Holidays Resort!
The Devil and his BFF have made a bet to help the visitors of Hellscape Holidays find true love, or at least help them get laid. It's only fair since they're all in hell anyway. So why not figure out how to fix these folks up. These people are too stressed out and the Devil thinks only getting them doing the horizontal polka will get them to chill out. Time to get his BFF and get to scheming…erm, that is, matching.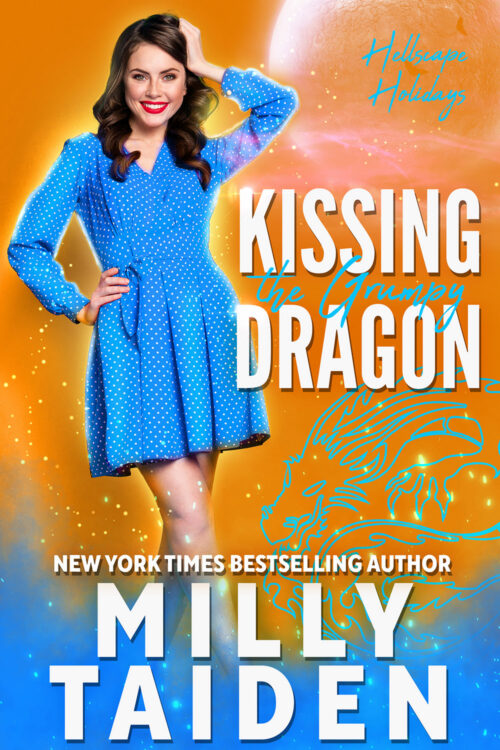 Kissing the Grumpy Dragon is now available!
Hellscape Holidays, Book 4

Kindle: US | CAN | UK | AUS
This book is included in the Kindle Unlimited subscription.
The last thing Kaia Coll expected when she checked in at Hellscape Holiday Resort was for a dragon to fight a demon over her. Technically, it didn't quite happen that way, but a witch can dream. Especially since the dragon is one good-looking man, and Portia Flemming keeps throwing them together!
Dragon shifter Greyson Verlice's idea of a company retreat isn't three-legged races and building sandcastles. Especially not when the distracting witch, Kaia Coll, is always around. Greyson needs to focus on saving his company and thunder. Not ditch his colleagues to flirt with Kaia.
But with the Verlice name on the line, Kaia might be exactly who Greyson needs. Kaia and Greyson are in trouble now that Lou and Portia set their sights on them. Add in a couple of Lou's cocktails, and who knows what will happen with these two!