Welcome back to Hurricane Valley: Growling for Thunder is out now!
"From the first moment Blake saw Isabella Duncan sitting in his cousin's car in front of his aunt's house he was a goner, even if he didn't know it. He soon found out that his usual brash, flirtatious manner wasn't going to win him Izzy's favors. Time for a new battle plan – one that had him being the kind, helpful bear that could sneak under her defenses. His progress was slow until the day she got a migraine. Armed with her foster sister Mallory's advice, he made himself into the best nurse ever. Once he had his foot in the door, so to speak, he got his whole bare, er bear, body in her bed. Things were looking up until their first date came to an abrupt halt when the Valley tried to come apart at the seams…." —Denise, a GoodReads reviewer
"When you start reading it you will not be able to put it down." —Laëtitia, a GoodReads reviewer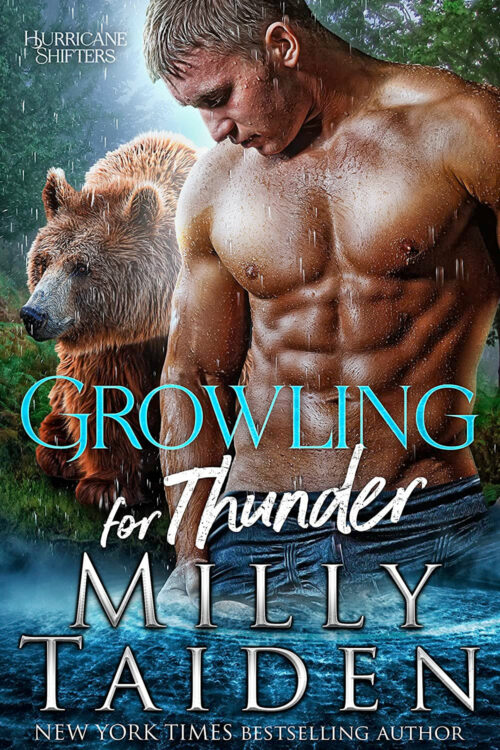 Growling for Thunder is now available!
Hurricane Shifters, Book 2

Kindle: US | CAN | UK | AUS
This book is included in the Kindle Unlimited subscription.
A brand new series of storm driven shifters that are going to bring down the thunder
Izzy Duncan doesn't like shifters, so when her sister invites her to her baby shower in the secluded shifter town of Hurricane Valley. When she meets bear shifter Blake Henry, Izzy knows she can't stay. The chemistry with Blake is instant. Given the opportunity to stay, how can she say no?
Blake Henry has a reputation, but it never bothered him until he met Izzy. Now, he has to prove himself like never before. If only she stopped pushing him away, but he has a plan to win her over.
Just as things finally start to go his way, an ancient enemy threatens the very fabric of Hurricane Valley. Now, Blake has to save his hometown. And Izzy just may be the answer to his and all of their problems.