W*I*N*N*E*R Announced – Fate's Wish e-ARC – Giveaway – Today ONLY
GIVEAWAY  
W*I*N*N*E*R   Announcement!!!
The winner for the e-copy of Fate's Wish is:
Iris
Congratulations Iris and to everyone else thanks for participating.
If you'd like to buy Fate's Wish it can be found here:
I've been on a high all day. Finished a great story and just got my final files for Fate's Wish, my demon/witch SUPER SEXY short.
I want to give a copy away TODAY. In celebration of Halloween.
DETAILS:
For a chance to win an e-ARC of Fate's Wish
Comment at the bottom and tell me what you dressed up as today. If you didn't dress up, tell me what you would've dressed up as if you had.
I will announce a winner tomorrow :)
Good luck and get me those comments!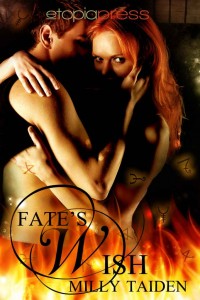 Shar is a witch with a problem. Her magic is waning and she doesn't know why to do. She's tried everything. When her mother suggests she have sex to clear her system, she's shocked and opposed. She only wants one man, her husband. But he left her without a reason. Evil forces are working against her and without her magic she's going to need help.
Zahir is a demon who can't forget the first woman to make him feel…more than a supernatural. So when he finds out Shar needs a body guard he's all for being the only man to watch over her body…for the moment.
Things become sticky since Zahir left Shar without a reason. He'll need to find a way to get her to forgive him and protect her. But will he move past the reason that pushed him to stay away from her and trust her with the truth? And will Shar forgive Zahir and allow him into her heart after all the pain he caused her?
They will both soon find out you can't fight Fate's Wish.