A.L.F.A. #4: Fearless Mating
Kindle: US | CAN | UK | AUS | Amazon US Print*
Nook | Kobo | iBooks | Google Play
An undercover mission uncovers hidden longings in the fourth of an irresistible paranormal romance series from the New York Times bestselling author of Dangerous Mating.
Shifter Candy Obermier is a hard-nosed alpha and proud of it. Ain't nobody going to put her in her place. Well, except her mate, if he exists. Her current task is to determine if the A.L.F.A. agency should be shut down and whether the shifter unit is important to national security or a waste of taxpayers' money.
Shifter director Josh Tumbel is up to the challenge of protecting the agency from scrutiny. When A.L.F.A. headquarters is taken in a hostage situation, Josh does what he can to protect his team and keep Candy from pissing off the suicide bomber…
*Available in print as part of A.L.F.A. Instincts (Release Date: May 1, 2018).
Also Available in Audio: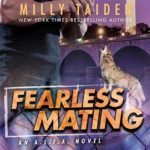 FEARLESS MATING — Unabridged Audiobook
Series: A.L.F.A., Book 4
Narrated by: Tyler Donne, Tess Irondale
Length: 6 hrs and 40 mins
Release Date: 4-17-18
Formats: Download
Download: Buy from Audible | Buy from iTunes
LISTEN TO A SAMPLE: