In Interview: Bianca Sommerland
Today I have a special treat for you guys. The lovely Bianca Sommerland is visiting and answering some questions as well as giving you the news on her latest release, Line Brawl, Book 8 in her Dartmouth Cobras series. Holy smokes Batman, can this woman write some epic stories. You have to get your hands on these and read. But first let me tell you about this impromptu interview that I slid into our conversation the other day.
M: Hey so how would you describe your Cobras? You know, the books, characters and stories.
B: Menage, BDSM and Sports.
M: Did they come to you that way or did they tell you as you went on?
B: Well, like one of the couples isn't menage. It didn't fit them. But there's menage in the books with the others.
M: And the BDSM was that part of all of them?
B: Yes
M: *realizes how very freaky her awesome friend Bianca is and loves her even more*
M: What was the first BDSM Book you wrote?
B:
Umm…well, there's some in
Rosemary Entwined
but I didn't think of it as a BDSM. It's just there.
M: So BDSM just comes naturally to you :-P .
B: Just a little bit.

M: LOL!! How were the cobras born? I mean my books the characters just show up one day and start telling me their story. How does it work for you.
B: Pretty much just like that. I wanted to do a hockey book. And the characters just showed up, ready to talk
M: Do you always listen to characters or are there books you've refused to write?
B: Always listen. Ignoring characters is a good way to go crazy! lol
M: Agreed! Boy do I agree. LOL. Though some are louder than others lol. It can get crazy when they all want their story told AT THE SAME TIME!
B:
I've had that.
Backlash
and
Line Brawl
were fighting for attention. But Pisch kinda sat back and was like 'We'll talk later'
M: Ah, yeah. Pisch. Tell me about Pisch. Why do you think he kept pushing you off.
B: He didn't. He's just laid back. Patient. He wasn't in a rush
M: Pisch is very clear about being free and not tied down. Do you feel you relate to this?
B: I wish!
M: I happen to know for a fact you like using the word free as well, missy.
B: I mean, I get him. But to be that free and really mean it? Oh, I do. But I can't live like that
He can and does. I'd feel guilty.
M: But it works for him. Like, i guess he had to find the people that made it okay for him to continue being himself. Which brings me to my next question, do you think it was important for him to be able to accepted with his need to be free?
B: *Realizes what M is doing* Is this an interview? It feels like an interview :-P
M: Maybe…
B: But yeah, he needed people who wouldn't try to change him.
M: As someone who always mentions being weird and different, traits I absolutely adore, do you think it's important in real life to find people who accept us as we are?
B: Absolutely. I think it's easy to SAY you accept someone. But to actually show it? Very different
M: Yes, this is very true. So in your world, Bianca's not the book, how does one show it?
B: I'm not sure there's any way to explain it. It's something you feel. Truly being accepted as you are.
M: And in Pisch's world, what allows him to feel he's found the right people for him. We all need one person who 'gets us' but Pisch, the lucky bastard, gets 2. At what moment does he say, this is right for me.
B: One, I think he hoped, deep down, but he didn't let himself believe it until it was undeniable. He was fine with his feelings not being returned. It would have hurt, but it's true that when you really love someone, you have to want what's best for them. With the other, it was unexpected. Just the click. That knowing this person fits. There were no demands. Just acceptance that he needed. And it was lasting.
M: At first glance it looks like 3 completely different people ended up so perfectly together. But as we both know, there's a lot of back story that makes them all be who they are. Did you see this coming? The 3 of them?
B: No. I was hoping Pisch and White would find their HEA, but I wasn't sure. I had to get in White's head and figure out how he felt. And that poor man wasn't sure for the longest time.
For the girl, I knew there would be one. There was something missing and the story came at me, and I could just hope for the best. It could have gone either way. At one point, I thought it would
But Pisch told me, under no uncertain terms, that one option? Nope. HELL no.
M: Pisch was a special book for you and the readers. Tell me why. What was it about him that made it so different? The anticipation for this book was palpable. Not just from readers but even you, the author.
B: Because it's Pisch
M: There you have it folks. If you want to know why he's so special you NEED to get your grubby little hands on books 1-7 and see Pisch through them all. Get to know him and the other players and fall in love with all of them. *Turns back to Bianca* Any other reason why it's special?
B: ROTFL! Seriously, he's just…you get to know him over the books. And he's…magnetic.
M: Reminds me of someone I know. Stop giggling!
B: No-pe!
M: So now that ultimate book is done, what is your creative little mind working on next?
B: A certain paranormal book that my muse is chomping at the bit to work on.
M: Awesome! Your paranormal books are very cool. Okay, all your books are. Thank you for answering my questions that you were totally not expecting during random conversation. I love you!
B: I love you!
Grab LINE BRAWL here:
Kindle | Nook | Kobo | iBooks
NOW FOR MY REVIEW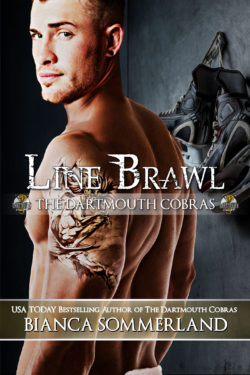 Alright guys and now I'll give you my review of Line Brawl by Bianca Sommerland.
Bianca Sommerland's Cobras have a depth of character you don't find in other sports romances. She heats up the pages with action and enough drama to pull at your heartstrings. Sommerland holds you captive. Her menages are smoking hot, deeply emotional and filled with exciting twists and turns.
Shawn Pischlar and Ian White don't know what's coming to them in the form of love and happily ever after, but in a book filled with drama, angst and romance, they will find their way. No, it won't be simple and saying I love you is the least of their worries. When you have lived a life of doubt and freedom, sometimes it takes being let go to know you can be free with someone else. As with life, it's not always 'easy' and sometimes they'll have to take the road less traveled but in the end, they will end up right where they need to be, at the beginning of a fantastic new adventure. This book should be read in order with the other 7 amazing Cobra books. Trust me. You will want to know all the other characters when you get to Pisch. Pisch and White will demand your attention once you get to Line Brawl. Perhaps it's the romantic in me, but I found seeing a person who feels keeping his life easy and free was the ultimate way to live, until he found even more freedom with the ones he loved. Grab your copy of Line Brawl and get to reading!
You can also find the other cobra books here: