ALIEN EMBRACE: Now Available for $.99! For a limited time only!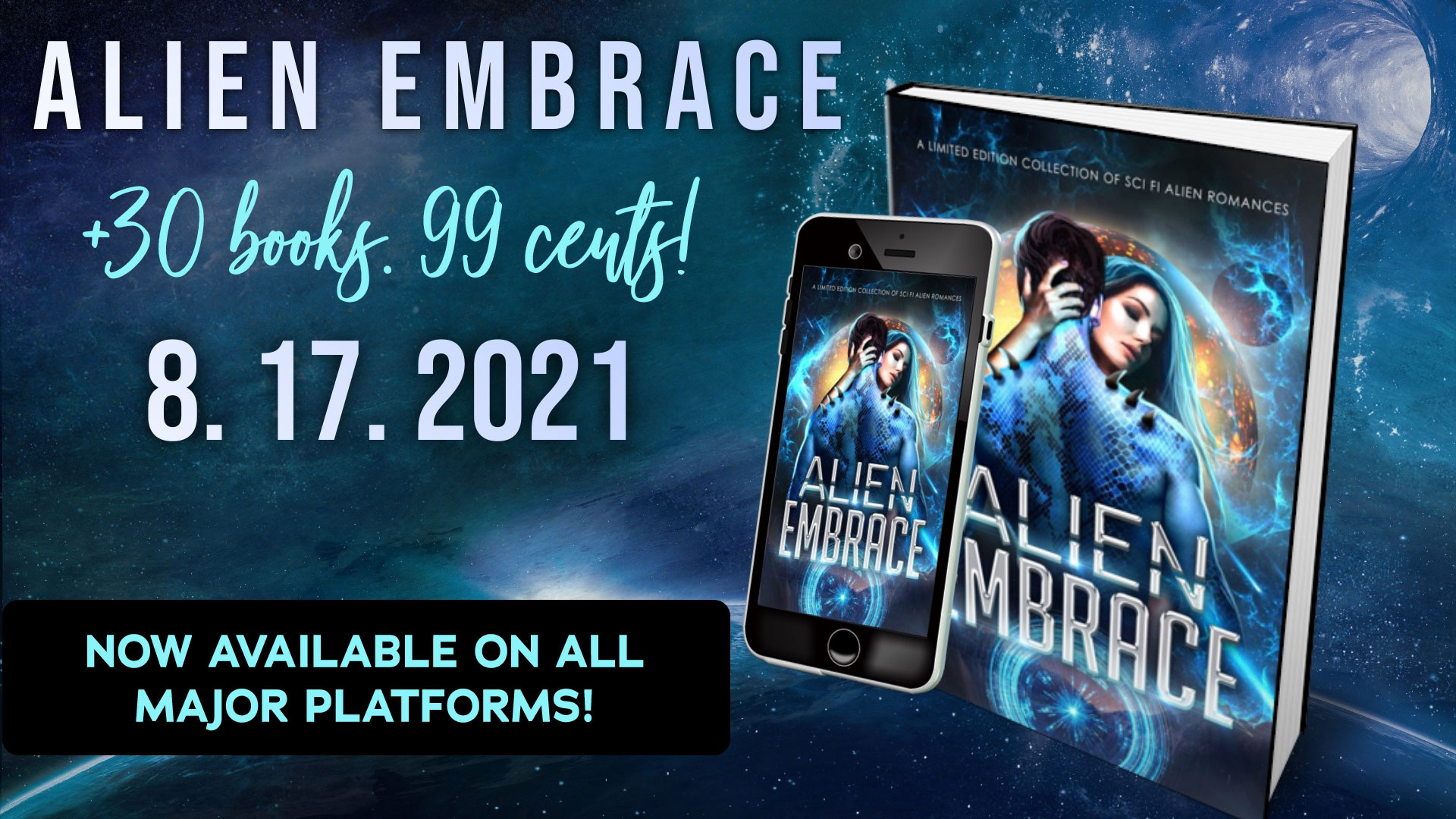 Are you excited? Don't miss your chance to grab this collection of more than 30 books full of feisty women and plenty of alien cock…iness. Featuring intergalactic romances from the best, new, and up-and-coming voices.
Aliens move among us—warriors, soldiers, explorers, and more—testing fate and finding love with their true mates. And they'll do whatever it takes to ensure their human mates remain forever caught in their Alien Embrace.
This hot new collection brings you all the best in science fiction alien romances from New York Times, USA Today, and international bestselling authors.
Our heroes and heroines will satisfy your cravings for every kind of alien romance, whether you prefer slow-burn or fast, one hot hero or two…or more.
Get this steamy new collection of alien romances from the best, new, and up-and-coming voices in sci-fi romance.
Secure your copy today before it returns to deep space without you and is gone forever.
SUDDENLY TAKEN
by Milly Taiden and Ava Hunter
Jozette hasn't been attracted to a man in ages. So when she meets Chuck her hormones suddenly wake up from hibernation. There's something about the strange man that just pulls at her. But when Chuck turns out to be an Alien bounty hunter, can she make the choice to leave all she knows behind to be with the only man she's ever felt love for?
Inside you'll find:
👽 Hot Aliens
These warriors, warlords, space pirates, barbarians and dragons are more than just muscles. They'll fight the cosmos to claim, protect and cherish the women they love.
👽 Fated Mates
When destiny calls, these women answer. They're the abducted heroines, captives, space marines, mail order brides and more who capture the hearts of sexy alien males.
👽 Adventure
Travel beyond the stars and discover to far away worlds, enslaved planets and dying species, as sexy aliens battle their way out of tight spots—and into tight places (wink)!
"This collection has it all. Action, drama, escape, acceptance, weird alien d*cks, mate bonds and sizzling passion."
— Alien Embrace Authors
This boxed set collection of new alien-human romances includes works by Celia Kyle & Anne Hale, Milly Taiden & Ava Hunter, Honey Phillips, Margo Bond Collins, Ella Maven, Jade Waltz, Eva Priest, Lucee Joie, Luna Wren, Ava Ross, Luna Jade, L. P. Peace, Harpie Alexa, Belle Harper, Libby Campbell, Jessica Grayson, Sasha Caine, Cass Alex, Skyler Andra, Nova Celeste, Tia Didmon, Mia Harlan, Vivienne Hart, Dee J. Holmes, Debbie Hope, D. F. Jones, Danielle Kaheaku, Katrina S. Karter, Michelle Mcloughney, Alexis B. Osborne, Kat Parrish, Erin Raegan, C.L. Riley and Sapphire Stone, Jarica Riley, Tricia Schneider, Ruby Snow, Star Wing, Aria Winter, Sapphire Winters, and Lexi Velvet.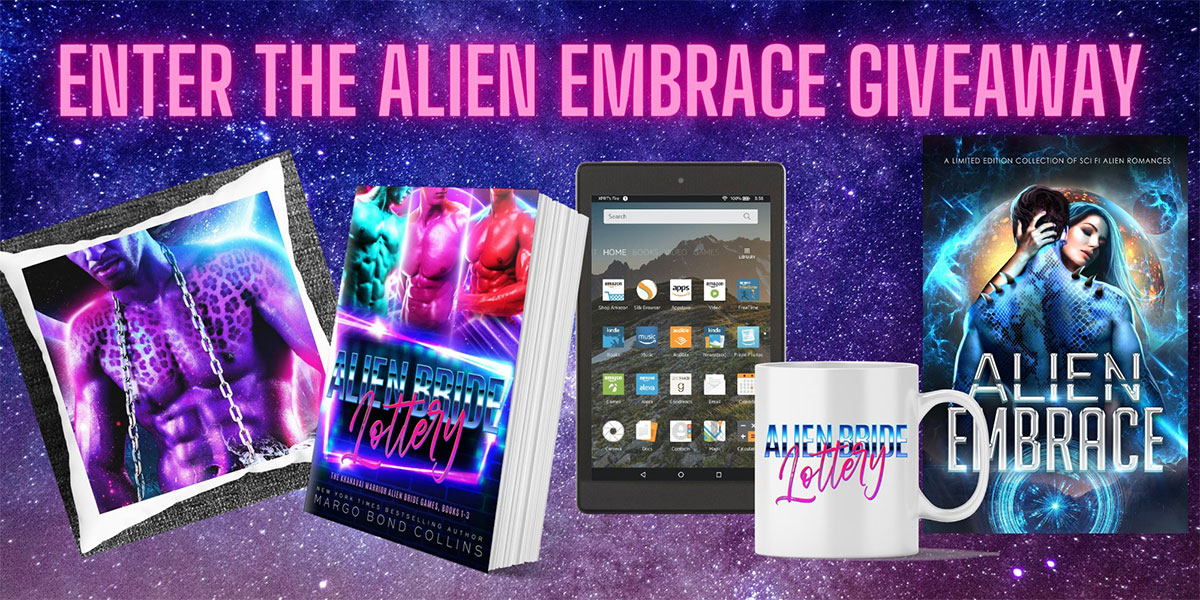 The winner receives:
A New Kindle Fire
An Alien Mate Pillow
An Alien Embrace Canvas Print
A Paperback Copy of Alien Bride Lottery Vol. 1
An Alien Bride Lottery Coffee Mug