Gerri is back in Just Her Stripe!
"This time, Gerri pairs up tiger shifter Tana with wolf shifter Vincent. Vincent has recently become alpha of his pack. The position was unexpected and came about due to his brother Lucas's mating into a pack in Hawaii which needed an alpha. Vincent had never paid attention to the training his brother had received from their father and was totally unprepared for his new role. He is immediately aware that Tana is his mate, but will the pack accept a tiger shifter as their matriarch? Vincent isn't so sure." —Denise, a GoodReads reviewer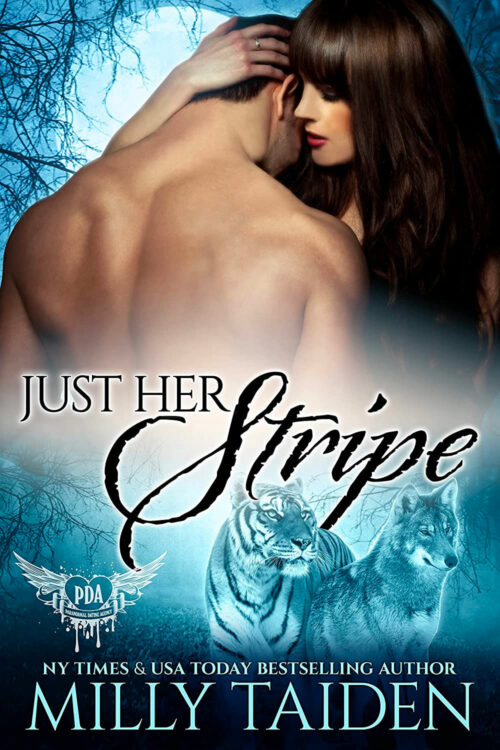 Just Her Stripe is now available!
Paranormal Dating Agency, Book 76

Kindle: US | CAN | UK | AUS
This book is included in the Kindle Unlimited subscription.
Vincent Doyle has always liked the simple life. Working as his brother's second in command and the town sheriff has kept him plenty busy. But now that his brother has moved to take over a new pack, it's time for Vincent to step up. There's just one big problem: Gerri Wilder informs him that an alpha is only as good as his mate, and introduces him to his!
Tana is a management consultant but she's left that corporate world behind. Now, she spends her time on community charities. When Gerri informs her that there is a wolf pack in need of her management expertise, Tana thinks there's no way a bunch of wolves want a tiger coming in and telling them what to do. Only, Gerri informs her that the wolf alpha is her mate, and this curious cat can't resist meeting him.
Tana and Vincent have a lot to figure out. The organization of pack business, as well as the flames that burn between them. Between unfriendly wolves wanting the tiger to leave, to old rivalries coming up in the form of an alpha challenge, there are plenty of hurdles they'll have to face before they find out if they have a future together.
For Tana, he'll fight every battle and win the war, because she's the only thing that matters to him. And Tana knows he's just her stripe.
* * *
She was stunningly beautiful, but that wasn't the attraction. It was her aura, her presence in the room. It was instant. Their energies entangled, wrapped around each other, like old friends greeting  after a long absence.
Every nerve ending in his body reacted to her. His skin prickled with electric sparks. She illuminated the room, sending shockwaves of power to his very core.
"You're catching flies, Vincent," said his mother sharply.
He shut his mouth. The other woman, Gerri, his mind absentmindedly filled in the name, was sitting at the breakfast bar with her – the stranger that filled his senses.
As soon as he'd walked in, she turned her chair to him, their eyes locking. His nostrils flared, her scent was addictive. Everything about her was addictive.