🐉 Name & Flame: It's time to go on a treasure-hunt with a billionaire dragon shifter!
"Excitement, danger, chemistry & steam, as well as so much more than they planned. Never a dull moment in the author's books and this is no exception." —Cheri, a GoodReads reviewer
"Audrey is a storm chaser and Stone is a billionaire dragon CEO. But when it comes to fated mates Gerri is never wrong with a 100% match rate. Stone is looking for lost treasure and he hires Audrey to be his guide. It looks like he'll be getting more than he wished for." —Tyrene, a GoodReads reviewer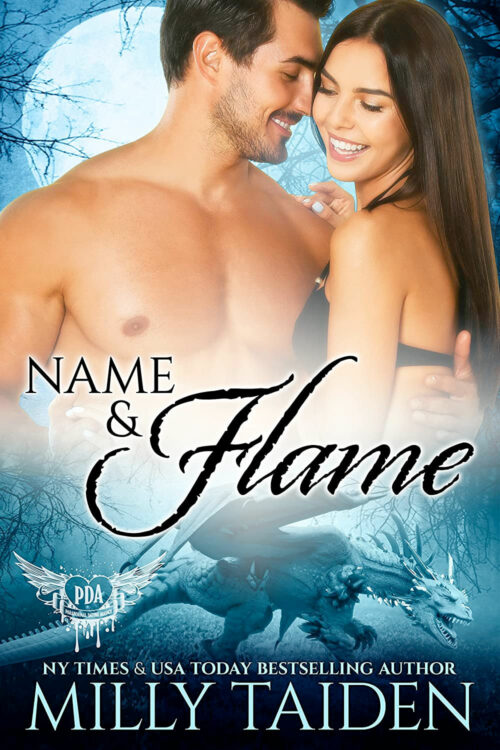 Name and Flame is now available!
Paranormal Dating Agency, Book 71

Kindle: US | CAN | UK | AUS
This book is included in the Kindle Unlimited subscription.
Adrenalin junkie Audrey Koch loves her job … chasing storms. Unfortunately, storm chasers don't make great money, so when Gerri Wilder offers her a gig as a treasure-hunting guide for a rich dragon shifter, she decides what the hell. What's the worst that could happen? Lots. Lots can happen.
Being a thousand years old dragon shifter, Stone Langert has had a long time to ponder the legend of his clutch's missing treasure. And now, he thinks he knows where it might be. He's not sure he wants anything to do with a time-consuming mate. But when he sees Audrey, keeping her is all he can think of.
Everything is perfect. His fated mate is leading him to the lost fortune, and they're going to live happily ever after. But he's not blind or oblivious to the dangers aimed directly at his fragile human mate. Keeping his real treasure safe becomes more important than anything.